Donald Trump reportedly picks "warrior monk" Gen. James Mattis for Defense secretary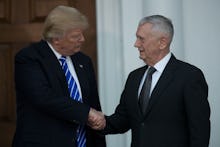 Donald Trump has chosen retired Gen. James Mattis as secretary of Defense, the Washington Post reported on Thursday. The president-elect broke with precedent by appointing a former general to lead the Pentagon, the country's largest employer and one of the world's strongest defense organizations. 
Appointing Mattis would require an act of Congress to bypass a federal law that bars members of the military from serving as Defense secretary within seven years of their active duty, the Post reported.
Mattis led U.S. Central Command from 2010 to 2013. CENTCOM is responsible for American military activities in the Middle East and Afghanistan.
After a lengthy career leading American military forces for over four decades, Mattis retired from the Marines in 2013. He fought in the war in Afghanistan and both American wars in Iraq. In 2003, he sent a now widely circulated letter to the Marines in his 1st Division the day before Americans invaded Iraq. 
"Demonstrate to the world there is 'No Better Friend, No Worse Enemy' than a U.S. Marine," Mattis wrote.
His nickname is "Warrior Monk" because of his focus on tactics and military history, ABC News reported. He is also known as "Mad Dog" Mattis, who co-wrote the military's counterinsurgency manual.
While promoted by and respected within Barack Obama's administration, Mattis has been critical of the president's handling of foreign policy. "What we achieved was a nuclear pause, not a nuclear halt," Mattis said of the Obama-brokered nuclear deal with Iran in April. "We're going to have to plan for the worst."
Mattis has spent 44 years in uniform, and if confirmed, will be the first general since Gen. George C. Marshall in 1950 to be granted an exception by Congress to become Defense secretary within seven years of military service. "Mad Dog" Mattis was a rumored third-party challenger to Trump and Hillary Clinton in April, but he demurred the pleas of the #NeverTrump crowd to join the race. 
Trump made Mattis' appointment official during the first stop of his "thank you tour" at an Ohio rally. 
"I don't want to tell you to this, I refuse to tell you, don't let it outside of this room," Trump said, according to the Guardian. "I will not tell you that one of our great great generals, don't let it outside, we are going to appoint Mad Dog Mattis as our secretary of defense and we're not announcing it until Monday so don't tell it to anybody." 
Dec. 1, 2016, 9:18 p.m.: This story has been updated.