Standing Rock facts: How a Sioux reservation became the center of a government showdown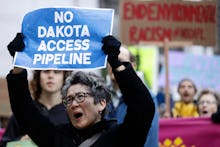 Since its construction approval in late July, the Dakota Access pipeline in North Dakota has shot into the national spotlight — and not for good reasons. The Standing Rock Sioux tribe have strongly opposed the project, saying it could pose environmental damages to their community, as well as their heritage. 
The tribe's struggle to halt the Dakota Access pipeline completion has inspired people across the United States. On Tuesday, it was reported more than 2,000 veterans promised to serve as "human shields" for the protesters after North Dakota Gov. Jack Dalrymple issued an executive order to evacuate "all persons located in areas under the proprietary jurisdiction" due to "harsh winter conditions." 
But the protests reveal more than Standing Rock's legitimate defense of their land; it also unveils troubling realities at the governmental level. 
Conflicts of interest
When the North Dakota's Public Service Commission granted a route permit to the Dakota Access pipeline in January, Commissioner Randy Christmann abstained from voting. According to the Dickinson Press, Christmann recused himself after learning the proposed route would travel across his mother-in-law's property, which is also willed to his wife. Christmann's mother-in-law was negotiating an easement with Dakota Access. 
The protests also shed light on a possible conflict of interest for President-elect Donald Trump. The Washington Post reported Trump sold off his share of Energy Transfer Partners, the parent company of Dakota Access, last summer. But a report from Associated Press indicates Trump may own between $100,000 and $250,000 in stock in Phillips 66, a company that has a substantial share of Dakota Access.  
What's more, the Associated Press reported Energy Transfer Partners CEO Kelcy Warren donated $3,000 to Trump's presidential campaign, in addition to $100,000 to a committee supporting his candidacy.
Excessive force 
Violence aimed at the protestors has escalated in recent months. According to CNN, around 400 demonstrators and police clashed on Nov. 20, as law enforcement deployed water, rubber bullets and tear gas. Weeks earlier, law enforcement had used riot gear and tanks to remove environmental activists and tribal members from Cannonball Ranch, a private site they used to camp for months, according to the AP. 
According to Eugene, Oregon-based radio station KLCC, a law firm sued law enforcement agencies and the North Dakota County where the protests have taken place. According to the class-action suit, police employed excessive force against peaceful protesters. 
Limited regulations
According to the Los Angeles Times, since the pipeline goes across private land, regulations are limited. "Because the 1,170-mile pipeline from North Dakota to Illinois is being built primarily on private land," author Scott Martelle writes, "it did not need a start-to-finish permit from the federal government, just signoffs by the Army Corps of Engineers."