Starbucks CEO Howard Schultz to step down in 2017 for new role leading social issues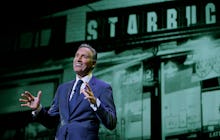 Starbucks' chairman and CEO Howard Schultz will be stepping down from his role in 2017, the company announced on Thursday, though he will not leave the company entirely. Schultz will hand over the reins to current president and COO Kevin Johnson.
Schultz's new role at the company — the biggest global coffee brand with more than 24,000 stores in 70 countries — will be as executive chairman. The position, according to the New York Times, will allow Schultz to lead Starbucks' charge on social issues, along with the development of a "superpremium line" of coffee products and stores.  
"Our complementary backgrounds — my entrepreneurial journey building Starbucks and Kevin's decades spent scaling global businesses — will continue to help Starbucks navigate this new period of worldwide growth and innovation," Schultz said in a statement.
There has been increased speculation that Schultz will eventually assume a political career in the future, as the Times points out.
Schultz was a supporter of Democratic nominee Hillary Clinton in this year's election, and has talked in the past about fixing the "dysfunction in Washington."
Speaking with Mic in September, Schultz cited "fractured leadership" in the United States as one of the reasons his company started "Upstanders," an original series aimed at highlighting individuals making a positive change in their communities. 
After the announcement of Schultz's new role, shares in Starbucks were down by more than 3%, according to Business Insider.
Though Starbucks has certainly had its share of controversies under Schultz's tenure, the CEO has been praised for his social stances.
Since Schultz joined the company in 1987 — stepping down once as CEO for another executive position before returning in that span — Starbucks had grown into a company valued at roughly $85 billion, according to Forbes.