House Science Committee cites white nationalist site in climate change tweet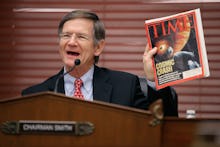 Those concerned about President-elect Donald Trump's position on climate change will probably be distressed by a recent tweet from the House of Representatives Committee on Science, Space and Technology. The Committee, which is part of the United States House of Representatives, cited a story from right-wing site Breitbart News on Thursday, whose headline read: "Global Temperatures Plunge. Icy Silence from Climate Alarmists." 
The article from Breitbart refers to a study cited from British gossip site, the Daily Mail. The study found global temperatures had decreased by 1 degree Celsius since the middle of the year. However, the original Daily Mail article — along with the Breitbart piece — failed to acknowledge what the majority of climate scientists have concluded on 2016: It is very likely to be the hottest year on record. 
Similarly, several months this year have been the hottest on record, as has summer 2016 as a whole. 
"The current warming trend is of particular significance because most of it is very likely human-induced and proceeding at a rate that is unprecedented in the past 1,300 years," NASA states on its website, regarding evidence of climate change. 
In response to the House Science Committee's tweet, many Democratic members of Congress — including Vermont Sen. Bernie Sanders — criticized the Committee for its apparent doubt of climate change, as well as citing a right-wing website infamous for its incendiary headlines. 
While President-elect Trump told the New York Times in a sit-down meeting with reporters he believes there is "some connectivity" between human activity and climate change, he has announced plans to defund NASA's Earth Science Division, which devotes much of its work to climate research.