'Harry Potter and the Cursed Child' could be coming to Broadway as soon as 2018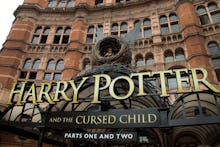 Fans of Harry Potter in the United States (or should we call them no-majs?) might not need to envy British theatergoers for much longer, as Harry Potter and the Cursed Child could make its way to Broadway as early as 2018. 
The play, which is currently on London's West End, is planning to have a spring 2018 opening at Broadway's Lyric theatre. But according to the Harry Potter site Pottermore, the theater would need to be renovated for the new production, and plans would include the auditorium having to lose 400 seats to accommodate the Cursed Child's set. 
It would be a small price to pay, however, for the play to make its way to the U.S. Since the Cursed Child made its debut in London back in July, critics have raved about the play as a worthy successor to J.K. Rowling's original seven Harry Potter novels. 
"I'm delighted we are one step closer in bringing Harry Potter and the Cursed Child to Broadway and very excited by the proposed plans," Rowling said in a statement. 
The Cursed Child takes place 19 years after the events of the last Harry Potter novel, with Harry's son Albus Potter beginning his first year at Hogwarts. 
With the prospect of the play making it to Broadway in a couple of years, Harry Potter fans shared their excitement on the Twitterverse.