'The Hamilton Mixtape' 2016: Track list, download, streaming options and more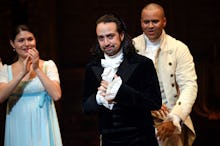 It's been quite the year for Lin-Manuel Miranda, the mastermind behind the Tony-winning Hamilton. He recently worked on Disney's latest animated film, Moana, and on Dec. 2 he released his much-anticipated The Hamilton Mixtape. The album, which Miranda collaborated on with the Roots, features several new versions of the musical's songs performed by artists such as Usher, Kelly Clarkson, Alicia Keys, John Legend and Wiz Khalifa. 
Where to download and stream The Hamilton Mixtape 
The original music from the show, released in album form on Sept. 25, 2015, was a tremendous hit for Miranda. The album made it to the third spot on the Billboard 200 list and, more impressively, still manages to hold onto the ninth spot 14 months after it was released. Moreover, it makes sense that Miranda would want to drop another version of music from his beloved production. 
After announcing the mixtape earlier this year and releasing singles from the album, including Usher's version of "Wait for It," The Hamilton Mixtape is now available for download on iTunes and to stream on Apple Music, Spotify and Tidal.
The #Ham4Ham mixtape release event
A day before Miranda released the mixtape, artists featured on the album took to the Richard Rodgers Theatre for a special #Ham4Ham event. Joell Ortiz and Busta Rhymes opened with "Rise Up Remix," and singers like Regina Spektor, Andra Day, and Ashanti also stopped by to sing their songs from the album. The event was hosted by Black Thought and Questlove from the Roots.
"I think the effort that went into [the mixtape] sort of speaks for itself. And it was just a blessing and a gift to be able to be associated with this project in any way, shape or form," Black Thought, who co-executive produced the mixtape, told Billboard. "I feel like this is the opportunity of a lifetime; this is a shot, no pun intended, of a lifetime."
The Hamilton Mixtape track list
Below is the Spotify track list for The Hamilton Mixtape, which contains 23 new editions of your favorite Hamilton hits.