This model is calling out the fashion industry for failing women with natural hair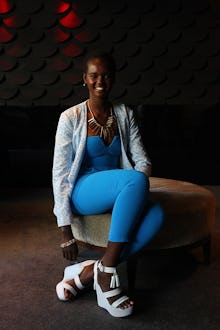 Earlier this week, model Nyadak Thot, who goes by "Duckie," let it be known that although you may be seeing more natural hair on actresses (like Viola Davis) and models (like Maria Borges, for instance), that doesn't mean it's easy out there for a model with natural hair right now. Given the fashion industry's pervasive lack of diversity, women like her are still having to deal with a level of ignorance that white models just aren't exposed to when it comes to their hair. 
In an Instagram post that's earned more than 17,000 likes, Thot got honest about how humiliated she felt when she appeared on Australia's Next Top Model three years ago and was forced to cornrow her own hair, because the stylists just didn't know how. That then lead to bullying online by people poking fun at her hair. 
"I was extremely upset and embarrassed that they 'didn't know how' to cornrow my natural hair when at the end of the day that's their job," Thot wrote. "I sat in front of the mirror silently crying before my shoot doing my own hair, cameras rolling while all the other girls had hairstylists, shit scared I was going to get eliminated because a few 'hairstylists' didn't know how to do their job."
Over the past few years, women of color have grown bolder with showing off their natural hair. Viola Davis has made an effort to wear her natural hair on red carpets. Taraji P. Henson decided to pose for a major fashion spread with hers. In 2015, model Maria Borges opened doors for women like her when she became the first woman to wear natural hair on the runway at the Victoria's Secret Fashion Show. (At this year's show, which taped earlier this week, three women with natural hair walked.) And women with natural hair have also been carving a unique space for themselves in the beauty blogging world as well. 
But still, issues remain. 
In a new interview with Teen Vogue, Thot further elaborated on the experience, how she's been made to feel uncomfortable because of her natural hair and who's really to blame. 
"That experience definitely didn't make me feel confident," Thot said. "I felt like a joke during that whole scene to be honest And, I felt like that many other times during the show. I got a lot of backlash on social media for my weight gain, the color of my skin, and my hair."
The real problem, according to Thot, is society's stigma against women with natural hair. Though she thinks women of color who are blogging about their own natural hair will eventually make a huge difference. 
"Being a black woman, we haven't really been taught how to take care of our natural hair — we've only been taught how to hide it," Thot said. "I think hair companies, the media, hairstylists, and the industry itself are to blame. They haven't made the same efforts to ensure black women are looked after in their most natural form. If you really think about it, it's the black women on YouTube who have really held it down with their natural hair tutorials. I think [the industry] should really take ownership and start to invest into us." 
Thot is far from the first model of color to air her grievances about the industry being inept. 
Back in July 2015, model Nykhor Paul took to Instagram to call out the fashion industry for not know what to do with her dark complexion. In February 2016, Leomie Anderson tweeted about how she still has to bring her own makeup and foundation to shows and photoshoots. 
Even Naomi Campbell, arguably the best model to have ever lived, has spoken out about how she's felt disadvantaged because of her blackness, telling Teen Vogue, "When I was younger, I encountered this same issue. I would be backstage at shows and there would be stylists who didn't have any experience working with black models. It's disappointing to hear that models of color are still encountering these same issues all these years later."
Clearly, when it comes to treating models of color equally and being prepared to treat them just like it treats white models, the fashion industry has a lot more work to do.