'The Hamilton Mixtape' Lyrics: Words for every new song off the Broadway album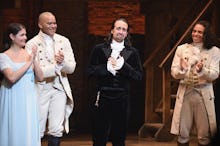 Fans of Lin-Manuel Miranda's hit Broadway musical, Hamilton, have reason to be excited, as The Hamilton Mixtape is now available for purchase. The newly released album features several popular artists covering various songs from the hit musical. 
While only now being released, the mixtape has been in development for quite some time. In fact, Lin-Manuel Miranda originally conceived the musical telling of Alexander Hamilton as an album rather than a musical. 
"I was going to write a concept album called The Hamilton Mixtape, wherein I would write some songs that were like highlights of Hamilton's life, a la Jesus Christ Superstar or Evita, and then someone would figure out how to stage it later," the artist explained to Entertainment Weekly. 
Broadway fans are certainly happy that Miranda was able to tell his story through the Broadway medium, as the musical, which chronicles the life of Alexander Hamilton, won a whopping 11 Tony Awards, including best musical, best book of a musical and best original score. 
The Hamilton Mixtape now allows the show's large fan base to appreciate the music in a whole new way, with many well-known artists covering the hit songs.
For those that want to immediately sing along with the newest songs, have no fear, you can learn them all below (lyrics via Genius):
Artist: The Roots
[Intro]
The Hamilton Mixtape
Artist: Nas, Dave East, Lin-Manuel Miranda & Aloe Blacc
[Hook: Aloe Blacc and Lin-Manuel Miranda]
[Verse 1: Nas]
Schemin' on a come up, from evening'to sun up
[Verse 2: Dave East]
I really wrote my way up out of 6E
[Hook: Aloe Blacc and Lin-Manuel Miranda]
[Verse 3: Lin-Manuel Miranda]
[Bridge: Aloe Blacc and Lin-Manuel Miranda]
I wrote my way out of the
"An Open Letter (Interlude)"
Artist: Watsky
[Intro: Watsky]
[Verse 2]
I don't care if I kill my career with this letter
Artist: Lin-Manuel Miranda
Oooh...
"These are the times that try men's souls. The summer soldier and the sunshine patriot will, in this crisis, shrink from the service of their country; but he that stands by it now, deserves the love and thanks of man and woman. Tyranny, like hell, is not easily conquered; yet we have this consolation with us, that the harder the conflict, the more glorious the triumph."
I have never seen His Excellency so despondent
Alex, listen. There's only one way for us to win this
Outrun (outrun)
Artist: Alicia Keys
[Intro]
[Verse 1]
And if this child
[Bridge]
[Verse 2]
[Bridge]
[Chorus]
Said, I would be enough
I could be enough
Don't look no further
Tell me baby (baby)
Artist: K'naan, Snow Tha Product, Riz MC & Residente
[Intro: J. Period]
Artist: !llmind
The Hamilton Mixtape
Artist: Dessa
[Intro]
Artist: Andra Day
[Verse 1]
Artist: Stro Elliot
Stay alive...
Artist: Wiz Khalifa
[Intro]
Artist: John Legend
[Intro]
There you have it, all the lyrics for every new song on The Hamilton Mixtape — start singing!