Barack Obama just gave Donald Trump a big gift. Will it keep on giving?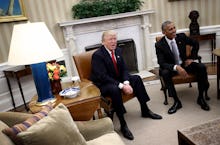 The United States economy added 178,000 jobs in November, with unemployment falling to 4.6%, according to the latest jobs figures from the Bureau of Labor Statistics. 
That's the lowest unemployment rate in nearly a decade — since 2007, right before the recession that began more than a year before President Barack Obama took office. 
The drop was a surprise: Analysts and economists expected that the unemployment rate would hold steady at 4.9%.
The gains were driven by a combination of new jobs and retirees leaving the workforce. 
Wages backslid slightly after gains in October, although they are still up 2.5% for the year, the Bureau of Labor Statistics told the Washington Post. 
Ironically, the economy that President-elect Donald Trump inherits, which he has often described as a "disaster," will be the strongest it has been in almost a decade, as Politico's Glenn Thrush pointed out in the below tweet.
Also important is the fact that long-term unemployment — particularly devastating, because the longer you're out of a job, the harder it can be to find one — has declined remarkably in the last five years, as Fusion's Felix Salmon noted on Twitter. 
Going forward, it seems likely that Trump will have the wind at his back when it comes to getting wages to grow. 
"If the job market continues to heal next year as is widely expected, it is reasonable to expect that we'll see better news on wages," Mark Hamrick, a senior economist at Bankrate, said in an email. 
The fact that wages are on pace to rise anyway shows that Trump might not be punished even if his moves to improve employment are more optics than substance.
Economists have expressed skepticism that recovering jobs by negotiating with individual companies — as Trump and Vice president-elect Mike Pence have done with their Carrier deal — will be effective long-term.
They argue it might even backfire by encouraging companies to demand concessions in exchange for staying in the United States.