British soccer clubs face nearly 350 child sexual abuse allegations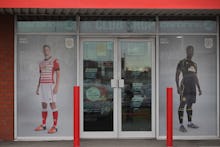 In November 2016, former professional British soccer player Andy Woodward spoke publicly for the first time about his experience with sexual abuse at the hands of Crewe Alexandra Football Club coach Barry Bennell, who was sentenced to nine years in prison in 1998 and on Tuesday was charged with eight offenses of sexually assaulting boys under 14. 
In an interview with the Guardian, Woodward recalled a nearly lifelong battle with anxiety and depression, along with thoughts of suicide "on probably 10 occasions." Unable to cope with the trauma, Woodward quit soccer at 29. 
"My life has been ruined until the age of 43," Woodward told the outlet. "But how many others are there? I'm talking about hundreds of children who Barry Bennell cherry-picked for various football teams and who now, as adults, might still be living with that awful fear."
Woodward was right: According to the Washington Post, investigations into British soccer clubs have turned up roughly 350 claims of sexual abuse so far, involving multiple coaches across organizations, sparking the British Football Association to launch its own probe into the epidemic.
"When it's our turn to apply the rules, we absolutely will, from top to bottom, regardless of the size of the club," the association's chief executive Martin Glenn told reporters.
In addition to the 860 calls to the National Society for the Prevention of Cruelty to Children's helpline over the course of just one week following Woodward's revelations, multiple soccer players have joined the former soccer player in speaking out publicly about their own sexual assault. 
Among them are Steve Walters, David White, Jason Dunford, Chris Unsworth, Anthony Hughes and Ian Ackley, who all identified Bennell as their abuser, according to the BBC. 
"While I believe throughout my football career I have come to terms with what had happened, I now realize the effects of Bennell's actions were much more far-reaching than I knew then," White told the BBC. "I have come to terms with the fact Bennell's actions influenced almost every event and relationship in my life."
The National Police Chiefs' Council Lead for Child Protection is encouraging people to bring their stories to them, no matter how long ago they took place. In a statement on the council's website, Chief Constable Simon Bailey promised, "We will listen and treat all reports sensitively and seriously," emphasizing the importance of coming forward in order to prevent further abuses of children in the clubs.
Woodward urged the same, calling for survivors like him to be strong.
"I want to give people strength," Woodward told the Guardian. "I survived it. I lost my career, which was a massive thing for me, but I'm still here. I came through the other side. Other people can have that strength."