People think Hillary Clinton's fleece jacket has more political experience than Trump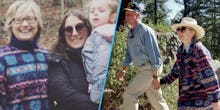 One month ago, Hillary Clinton was most commonly seen on the campaign trail with expertly coiffed hair, wearing a bold and bright pantsuit.
Nowadays, in the weeks since her crushing defeat, she's outfitting herself a bit differently. She's swapped the campaign trail for hiking trails. She's swapped the coiffed hair for a shaggier 'do. And most obvious of all, she's swapped her pantsuit for cozy knits and vibrant print fleeces. 
But don't think that doesn't make her still look presidential. After all, a fleece jacket she was just photographed wearing has gone on a political career all on its own. 
As pointed out by a few Twitter users, Clinton still wears a blue and red festive fleece that she wore over 20 years ago, when her husband, Bill Clinton, was president of the United States. 
The fleece she was recently photographed wearing while taking her regular stroll through the woods in Chappaqua, New York...
... is the same one she wore in 1995, when she went on a trip to Grand Teton National Park in Wyoming with her husband. 
Can't blame a woman for staying dedicated to a huge, comfy fleece, can you? 
And, as one person on Twitter was quick to point out, that means that this fleece has spent more years in politics than, well, you know. You know the guy: Donald Trump. 
Yes, this blue and red and white fleece, complete with snowflakes and polka dots and stripes and ornaments has spent more time in politics — and the White House — than Donald Trump. 
Comforting, isn't it? 
If only poly-blends could talk.