How can I help Syrian refugees? 5 charities and organizations that are fighting the crisis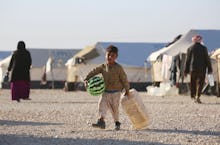 The Syrian civil war has ravaged the people and country for five years now and there appears to be no end in sight. Involvement of international actors — such as Russia, Iran and the United States — has served to escalate the scale of violence.
The world has looked on in horror as images of young Syrian children paying the price of this war have gone viral, from 3-year-old Alan Kurdi washing up on the shore dead after an unsuccessful attempt to flee by boat to 5-year-old Omran Daqneesh wiping blood from his head after being pulled from the rubble of his bombed home.
While much of the the global community is left largely feeling helpless, there are organizations doing crucial work to help Syrian refugees.
The following charities are some of the most highly ranked by watchdog and vetting sites Charity Watch, which provides an A to F grading system, and Charity Navigator, which assigns rankings out of four stars.
1. Palestine Children's Relief Fund
Charity Navigator: 4 stars
PCRF describes itself on its website as "a non-political, non-profit organization dedicated to healing the wounds of war and occupation in the Middle East."
Charity Watch gives it the highest possible rating in its overall score, as well as in the subcategories of "financial" and "accountability and transparency."
PCRF spends nearly 90% of its funds on the programs it runs. Donors can give directly to its #promise4syria campaign, which provides humanitarian assistance and medical care to Syrian children. 
2. International Rescue Committee 
Charity Navigator: 4 stars
IRC is renowned for its work with refugee, displaced and vulnerable populations around the world. 
The organization is working with more than 1.4 million Syrians, half of whom are children, providing medical care, emergency provisions and counseling for those who've been traumatized by the civil war, according to its website.
Over 90% of its funds are spent on its programs and services, Charity Navigator finds. 
3. Islamic Relief USA
Charity Navigator: 4 stars
IRUSA has initiatives like winterization, which provides Syrian refugees living in Lebanon with food, heaters, plastic sheeting and other supplies needed in order to survive harsh winter weather conditions. 
Beyond this initiative, it also provides assistance through items and services like diapers, bathroom and shower units, cooking sets and education, to name a few.
IRUSA has been operating in areas cities like Aleppo — where an estimated quarter-million Syrians are trapped as the eastern part of the city is besieged and barraged by Syrian- and Russian-backed missile strikes.
4. American Refugee Committee
Charity Navigator: 4 stars
ARC is committed to helping the roughly 12 million Syrians who have been displaced by the war. It achieves this by providing "water, sanitation and hygiene infrastructure in collective shelters, protection support for women and girls facing violence and distribution of much-needed emergency items for people who have fled their homes but are still inside Syria," its site explains. 
ARC also works with "citizen humanitarians," like former lawyers and doctors, who provide critical assistance to those in need. 
It received a top score from both Charity Navigator and Charity Watch, meaning it uses its funds extremely effectively and practices transparency as an organization. 
5. Doctors Without Borders USA/ Medecins Sans Frontieres USA
Charity Navigator: 4 stars
MSF is providing medical and humanitarian assistance throughout Syria, including the besieged East Aleppo.
It backs and supports around 70 hospitals and clinics throughout the country. More than 7,000 people died from war-related injuries in their affiliated facilities in 2015 alone, but in the same year, these hospitals also treated more than 150,000 wounded, about a third of whom were women and children.
Their hospitals are frequently subject to airstrikes and bombings, but the organization remains undeterred in its efforts to assist vulnerable Syrian citizens.