Childish Gambino 'Awaken, My Love!': Download and streaming options for new album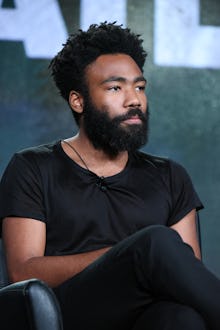 Childish Gambino, aka actor Donald Glover, released his third studio album, Awaken, My Love! Friday. We recommend giving all 11 emotional gospel songs — a departure from the artist's previous rap endeavors— a listen. 
Download and streaming options
You can purchase the album as a digital download or stream it several ways. One option is to buy it directly from the Childish Gambino website for $11.99. Throw in the exclusive album poster and the price jumps to $14.99. You can also buy the CD on the website.
On iTunes, Awaken, My Love! goes for $9.99. As of Friday at 12 p.m. Eastern, more than 600 users have given the album a 4.5-star rating.
On Amazon, the full mp3 download goes for $9.49. If you get the Amazon Music Unlimited App, which costs $7.99 a month for Prime members and $9.99 for non-Prime members, you can get unlimited streaming on the album. 
Awaken, My Love! is also available on Google Play Music. You can buy the download for $9.49 or subscribe to Google Play Music to stream millions of songs ad-free. The individual rate is $9.99 a month. The family rate, which allows up to six people, costs $14.99 a month.
If you log onto Spotify, you can stream the album for free in shuffle mode. To play any song at any time, you must upgrade to Spotify Premium. The first three months of Premium are $0.99. After that, membership costs $9.99 a month. 
Of course, Childish Gambino also wants you to see the "Me and Your Mama" virtual reality video, which is available for streaming on his app, PHAROS. This is literally the only tweet on his Twitter stream right now:
Awaken, My Love! Track List
To be sure you listen to all of the songs on the album, here is the full track list:
2. "Have Some Love"
3. "Boogieman"
4. "Zombies"
5. "Riot"
6. "Redbone"
7. "California"
8. "Terrified"
9. "Baby Boy"
10. "The Night Me and Your Mama Met"
11. "Stand Tall"
Mic has ongoing Childish Gambino coverage. Please follow our main Childish Gambino hub.