Holiday 2016 skincare sets for a vibrant season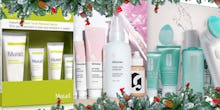 We all want vibrant, healthy skin and an easy way to achieve that is with a skincare set.
The holiday season is the perfect time to shop for sets because brands like Clinique and Kiehl's group some of their most popular products with others that you may have overlooked — or completely new items they want you to try. There are also the skincare sets that go outside the norm to address full-body skincare or more intimate areas.
All in all, when shopping skincare, you want to look for packages with balance. For daily sets, a basic cleanser, moisturizer and toner are key. Also consider brands that the person you're buying for already uses. More than likely, that brand has sets with a little bit of every product your loved one loves.
Below, see some of our favorite holiday skincare sets.
The rave reviews for this skincare set should be expected. Clinique is known for providing top-notch ingredients packaged in sets just like this. For a daily solution to rid acne, this is a great and beautifully packaged option with an easy-to-use deep cleansing brush.
Honestly, who doesn't want the fresh scent of rose water on their face every day? There's basically nothing fancier. In addition to providing hydrating essentials, like golden root extract and actual rose petals, there's an undeniable calming factor to this Fresh set.
Think of this Dreslyn box as the ultimate refresh kit. It includes a cedarwood and sandalwood fragrance, hair spray that neutralizes odor, multistick to add color to dull skin, Rose Hibiscus Hydrating Face Mist and their Coco Rose Lip Conditioner. Oh, and that crisp white fold-able box is reusable.
For first-time Glossier users, this skincare set is the perfect gift. Packaged in a cute pink box is a Milky Jelly cleanser, priming moisturizer, Balm Dotcom and Perfecting Skin Tint in a range of inclusive shades.
We've got a curve ball for you with this holiday gift. The Honey Pot is an Atlanta-based company that makes a range of organic and vegan feminine care products. While they do have sets, we suggest a gift card for your loved one to shop for whatever their heart desires. Since, clearly, this is a very personal buy.
Have a friend who's obsessed with lotion or struggles with staying moisturized in the winter? This all-white set is a chic option that will, without a doubt, look good in their bathroom and feel good to the skin.
Sometimes skin just needs a reset. That means using sensitive products that remove dead skin cells and leave the skin feeling vibrant. For that, this Skin Inc. kit with a Pure Revival Peel and Pure Deep Sea Hydrating Mask is fantastic.
All four products in this set are paraben, sulfate and phthalates-free. Leave it to Murad to promise younger-looking skin in 30 days. 
Gift the body, with a skincare kit full of relaxing goodies from Illume. In this box shipped from the Vivrant Beauty boutique in Harlem, you'll find an all-natural bubble bath, body soufflé and scented candle.
New York-based brand Kiehl's gives to worthy causes all year round. This holiday season, they have a hydration collection of three items with proceeds going to Feeding America food banks.