Is 'False Prophets' a Kanye West diss track? The case for it — and against it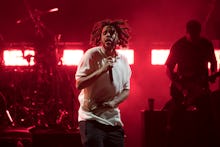 Could J. Cole's new track, "False Prophets," from his forthcoming album, 4 Your Eyez Only, be dissing Kanye West? The track, which was released Thursday night as part of the 40-minute Eyez documentary, is certainly calling out somebody. 
The track features lyrics like, "He's fallin' apart, but we deny it" and "When he tell us he is a genius but it's clearer lately." If this is indeed about West, J. Cole is calling out an artist who's been in the headlines lately for everything besides his music. The track's release comes only days after the rapper spent time in a hospital after suffering "sleep deprivation."
The verse that has Twitter up in arms goes as follows:
Yeah, life is a balance
If the shoe fits...
Reading through the lyrics, it's clear J. Cole has a rapper in mind, but he stops short of actually naming West, or anyone else. So it is possible that "False Prophets" is more generally about an artist that has moved past his glory days, not an uncommon occurrence in music.
But there are some on Twitter who feel this is a "if the shoe fits" type of deal, and the shoe just may fit West.
Isn't it clear?
Despite failing to explicitly name West, the troubled rapper has been closely associated with "False Prophets" since its release.
We won't know for sure whether J. Cole is actually dissing West unless the artist admits it. Still, it is clear J.Cole feels let down by someone he once admired — and he's letting everybody know. 
Watch the video for "False Prophets" below.