'Hairspray Live!' vs. the movie: How do the two soundtracks compare?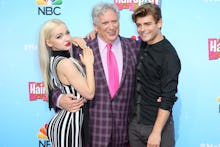 It's a common trope that the book is usually better than the movie. A less frequently asked question: Is the movie better than the televised live production of a musical?
Ahead of Wednesday's Hairspray Live! musical event, NBC has made the full soundtrack recording available for streaming on Spotify and Apple Music. It's the third full recording of the same show, after the original Broadway cast recording and the 2007 movie soundtrack.
But how does it stack up to the movie? We've broken down which version is better, track by track, between the televised and cinematic adaptations of the musical. The results might surprise you.
(Editor's note: "Velma's Revenge" and the "Good Morning Baltimore" reprise only appear on the live TV musical soundtrack, while the "Big, Blonde and Beautiful" reprise and "The New Girl in Town" only appear on the movie soundtrack. We've left them off, along with "Cooties," which is a non-cast bonus track on the movie soundtrack.)
"Good Morning Baltimore"
Movie: It's set in a higher key, with a somewhat more emphatic performance from Tracy Turnblad (Nikki Blonsky).
Live TV: This Tracy (Maddie Baillio) can't quite keep up.
Advantage: Movie
"The Nicest Kids in Town"
Movie: Corny Collins' (James Marsden) introduction to his own show is a delicious slice of Bandstand power.
Live TV: Dancing with the Stars king Derek Hough can actually sing! He's surprisingly good, but Marsden has the edge. (Note that the names in the roll call have changed from the movie.)
Advantage: Movie
"Mama, I'm a Big Girl Now"
Movie: This was a credits track in the movie, sung by Blonsky, original Broadway lead Marisa Jaret Winokur and Ricki Lake. Considering that, it's decent.
Live TV: This is a much more fleshed-out number, featuring several members of the principal cast, and it's far more effective.
Advantage: Live TV
"I Can Hear the Bells"
Movie: It's not Blonsky's best moment, partially because her strong enunciation, so effective elsewhere, makes this sound a bit too theater-kid.
Live TV: This is lovely, and a surprise at that. Baillio doesn't quite have Blonsky's power, but she emotes nicely.
Advantage: Live TV
"(The Legend of) Miss Baltimore Crabs"
Movie: As Velma Von Tussle, Michelle Pfeiffer brought just the right amount of campy lyric-masticating to Hairspray's villain anthem.
Live TV: This song has our first substantial lyrical differences from the movie, and despite Kristin Chenoweth's best efforts, the recording is just awkward.
Advantage: Movie
"Ladies' Choice"
Movie: An original song for the film, this is a suitable explanation for why Tracy is swooning for Link Larkin (Zac Efron).
Live TV: Bizarrely, the live TV adaptation not only keeps the movie-only song, it gives it to Corny Collins — which doesn't work either in theory or in execution.
Advantage: Movie
"It Takes Two"
Movie: Efron needs Blonsky to bounce off of; in a vacuum, all his chemistry disappears. Such is the case on this dreary love song.
Live TV: This Link (Garrett Clayton) isn't tremendous by any means, but adding Baillio to the song to riff with him was a very smart choice.
Advantage: Live TV
"Welcome to the '60s"
Movie: Forgettable in either incarnation, the movie version at least feels a bit fuller, though John Travolta is an inferior Edna Turnblad.
Live TV: This Edna (Harvey Fierstein) is better — he was the original on Broadway — but he doesn't aid an anemic version of an already mediocre tune.
Advantage: Movie
"Run and Tell That"
Movie: Elijah Kelly is a smooth, stellar Seaweed, and his solo shows off his talent nicely.
Live TV: Ephraim Sykes is also great, and his "Run and Tell That" maintains the movie's catchiness while nailing the finale in a way Kelly's doesn't.
Advantage: Live TV
"Big, Blonde and Beautiful"
Movie: This is Motormouth Maybelle's musical introduction, and with the right mix of technical prowess and campy panache, Queen Latifah gets it right.
Live TV: As Maybelle, Jennifer Hudson is as technically perfect as always, but she lacks Queen Latifah's charisma.
Advantage: Movie
"(You're) Timeless to Me"
Movie: Let's not talk about Christopher Walken's singing voice.
Live TV: Martin Short is not Christopher Walken, and thus this one is his.
Advantage: Live TV
"Without Love"
Movie: Both versions sound pretty canned, but the problem is worse on this version, particularly thanks to Efron and Amanda Bynes as Penny.
Live TV: This is probably Ariana Grande's best work as Penny; she can't seem to escape her pop voice to transition to a more theatrical tone on this soundtrack, but she blends nicely here.
Advantage: Live TV
"I Know Where I've Been"
Movie: Queen Latifah gives this anthem the right amount of soulful heart, free of much flourish.
Live TV: But Jennifer Hudson knows that this is Hairspray, and flourish is the name of the game. She belts and brays, and it works beautifully.
Advantage: Live TV
"(It's) Hairspray"
Movie: Marsden once again proves himself the superior Corny Collins, bringing just the right amount of asexual charm to this pageant song.
Live TV: Hough gets a medal for besting expectations, but he's not the performer Marsden is.
Advantage: Movie
"You Can't Stop the Beat"
Movie: This one is really close. The movie version is more high-energy — with the exception of Travolta's verse, which almost crashes the song to a halt — but cuts out several significant sections.
Live TV: The TV version restores the Von Tussles' section of the song, to great effect. There are problems (chiefly Grande's verse), but this one comes out on top.
Advantage: Live TV
"Come So Far (Got So Far to Go)"
Movie: The first credits song is also the weaker of the two and diminishes the impact of "You Can't Stop the Beat."
Live TV: We didn't know how badly we needed a Hudson-Grande duet, but God, we did.
Advantage: Live TV
Final result: 9-7, live TV wins
The movie soundtrack probably sounds better as a whole, but a couple of close calls and some star power gives the live broadcast's recording the win. Watch Hairspray Live! when it airs on NBC Wednesday, Dec. 7, at 8 p.m. Eastern.