2017 Obamacare New York: Costs, eligibility, deadlines and more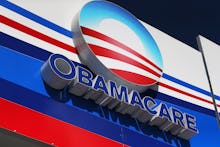 Since first taking effect in 2014, millions of Americans have gained health insurance through the Affordable Care Act, with 12.7 million Americans taking part in the healthcare marketplace set up by the ACA as of February. While the future of Obamacare now looks unclear under the impending Drumpf administration, Americans can still sign up for and take part in the program in 2017.
If you're a New York resident who's planning to take advantage of Obamacare in 2017, here's what you need to know.
Eligibility
To purchase individual and family plans through New York's health plan marketplace, the NY State of Health, residents must live in New York; be a citizen, U.S. national or documented immigrant, and cannot be currently incarcerated. The ACA in New York also provides insurance plans for small businesses, which are considered businesses with 100 or fewer full-time equivalent employees that have a physical business address in New York state. 
In addition to its primary health coverage, known as the Qualified Health Plan, New York also offers an Essential Plan specifically for low-income residents who don't qualify for Medicaid or Child Health Plus. To qualify for the Essential Plan, households with one person must have an annual income of no more than $23,760; two-person households must earn less than $32,040; three-person households must earn less than $40,320 and four-person households must earn less than $48,600.
Deadlines
Open enrollment for new customers using the Qualified Health Plan in 2017 is currently available through the NY State of Health through Jan. 31, 2017. To enroll in a plan that begins Jan. 1, 2017, New York residents (including existing ACA customers renewing their health plans) must enroll by Dec. 15, 2016.
While this open enrollment period is the main time that New Yorkers can purchase ACA insurance during the year, the state also offers Special Enrollment periods for those with qualifying life events. These life events include loss of minimum essential coverage; making a permanent move to New York or moving to a different county within the state; marriage or becoming newly eligible for tax credits. New Yorkers cannot take advantage of Special Enrollment if they voluntarily drop their other health coverage.
Enrollment for the Essential Plan, on the other hand, is available all year long.
Plans
Roughly 18% of Obamacare customers nationwide live in counties where only one insurance provider is available, as noted by the New York Times. New York State, however, offers much wider options, with almost all counties offering ACA customers a choice between three or more different providers. Go here to see all the insurance companies offering plans under the ACA.
To see which insurance providers offer coverage in each county, the NY State of Health website offers maps for Qualified Health Plans and Essential Plans.
Costs
Health insurance costs through the ACA will vary widely depending on a variety of factors that include age, income and household size, as many ACA users qualify for certain subsidies that will deduct from their total costs. Though health care premiums in New York under the ACA will increase by an overall average of 16.6% in 2017, these subsidies will, in many cases, help to offset these higher prices. You can only calculate and enroll for all forms of financial assistance through the NY State of Health marketplace.
Qualifying Health Plans in New York also come in four tiers: Bronze (insurer will pay 60% of covered health costs, on average); Silver (70% of costs on average); Gold (80%) and Platinum (90%). Low-cost "catastrophic" plans that offer very limited coverage in case of emergencies are also available in certain circumstances, particularly for healthy New Yorkers under 30.
New Yorkers can estimate how much their healthcare plans will cost through the NY State of Health website, which allows users to anonymously preview plans and estimate the amount of financial assistance they qualify for before officially applying for coverage. Small business employers can get quotes for their health insurance coverage online here.
For an individual in New York City purchasing medical and adult dental insurance earning $40,000 per year, the NY State of Health website's plan previewer currently lists Bronze plans ranging from $262.43 - $309.59 per month; Silver plans from $337.69 - $410.84; Gold plans from $423.24 - $511.76; and Platinum plans from $524.31 - $618.40. A family of four in Albany county earning $80,000 a year, meanwhile, can expect to pay anywhere between $1,162.44 per month for the cheapest Bronze plan to $1,709.41 for a Platinum plan (excludes dental).
The costs for the Essential Plan, meanwhile, are much more straightforward: customers will pay $20 per household member per month in most cases, though some will be eligible for free coverage.
For more about insurance through the ACA in New York, visit the NY State of Health website. More information about the Affordable Care Act nationwide can be found at Healthcare.gov.