Childish Gambino "Redbone" Lyrics: Every verse to standout track from 'Awaken, My Love!'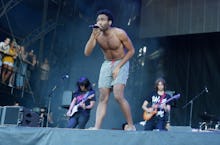 Donald Glover the 33-year-old comedian, writer, actor, and musician dropped his third record — as Childish Gambino — Awaken, My Love! on Dec. 2. But before the album was released, Gambino gave us two singles: "Me and Your Mama" and "Redbone." The lyrics for "Me and Your Mama" are over here, and Gambino's "Redbone" lyrics are below. 
In November Mic described the first single, "Me and Your Mama," as a "breathless, screeching gospel anthem, perhaps the boldest and most emotionally raw track the artist has ever attempted." 
"Redbone," which dropped a week later, sees the artist "straying from the clear, enunciated flows of his early mixtapes towards a soul-wrenching screeches, reminiscent of the immortal Prince and his student D'Angelo." 
"Redbone" lyrics
Now, since Awaken, My Love! has officially come out, we're here to present every lyric from "Redbone" (courtesy of Genius). 
[Verse 1]
Awaken, My Love! is available to buy on iTunes and to stream on Spotify, Apple Music and Tidal. 
For more info — new and old — on Childish Gambino, you can check out his page at Mic here.