Survey: 1 in 5 female Clinton voters said her husband or partner didn't vote at all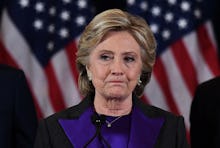 It's not hard to find stories of couples who voted for opposing candidates this election, but a new post-election survey from Public Religion Research Institute and the Atlantic showed many women who voted for Hillary Clinton say their husbands or partners didn't choose to vote for a different candidate — they chose not to vote at all.
According to the survey, which was based on more than 1,000 phone interviews, a majority of female Clinton voters, 66%, said their husbands or partners also voted for Clinton. But 19% of them, about 1 in 5, said their husbands or partners didn't vote at all in the election. 
That's more than the number of female Clinton voters who reported their husbands or partners voted for Donald Trump and the number who reported their husbands or partners voted for other candidates — combined.
While the results may be frustrating for the Clinton-supporting women whose husbands or partners stayed home, they're not altogether surprising considering, as PBS NewsHour reported, millions of eligible people didn't vote in the 2016 election. 
Voter turnout was approximately 58% — about the same as the turnout rate in 2012 — but David Becker of the Center for Election Innovation and Research told PBS NewsHour, "Several million voters didn't come out to vote."
The PRRI and Atlantic survey also found half of respondents reported feeling "worried," "disappointed" or "angry" at the results of the election. But it wasn't negative across the board: Among men, a "slim majority" said they felt "satisfied" or "excited" by Trump's victory.