'Death Stranding': New trailer features Mads Mikkelsen, release date still a mystery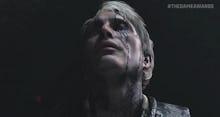 At the Game Awards on Thursday night, Hideo Kojima, creator of the Metal Gear Solid franchise, premiered the second trailer for his creepy, surreal game Death Stranding after receiving his Industry Icon Award. If you haven't watched the video yet, check it out below.
Though it was first announced in June, Kojima has yet to reveal many details about Death Stranding other than the fact that it's an open-world game that thematically focuses on the connections between people. There's major star power behind it, though: Norman Reedus from The Walking Dead, Mads Mikkelsen from Rogue One and Guillermo del Toro, the director of Pan's Labyrinth, are all involved.
The newest trailer did very little to clear anything up about what this game actually is, but the mysterious visual design and creepy fetus motif it featured made for some brilliant and hilarious internet reactions.
Here are our favorite reactions to the new Death Stranding trailer from around the web.
Death Stranding new trailer: The internet reacts to creepy visuals and Mads Mikkelsen
Most reactions to Death Stranding essentially amount to "I have no idea what the hell it is but I want it now."
But a lot of people also noticed that Death Stranding basically just stars a lot of Kojima's buds. Kojima previously worked with both del Toro and Reedus on the now-defunct reboot of Silent Hill.
Also, people seem to be really, really into the idea of Mads Mikkelsen being involved. In just a few short hours, Tumblr is already packed with fan art and GIFs of Mikkelsen's reveal.
Given that Death Stranding is still so mysterious, its release date is probably a long way off. The good news is that Kojima will be speaking at a panel on Dec. 3 at PlayStation Experience, so some additional details might be revealed soon. Stay tuned!
More video game news, updates, guides and more from Mic:
If you want to catch up on even more video game news, check out the latest from Mic, including information on the new Star Wars: Battlefront expansion, a review roundup of Super Mario Maker for the 3DS, information about season 3 of competitive Overwatch, and a quick collection of tips and tricks for Final Fantasy 15.