7 things to know about Felicity Jones, Jyn Erso in 'Rogue One: A Star Wars Story'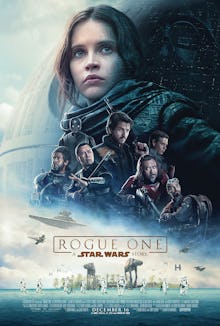 English actress Felicity Jones will be starring in Rogue One: A Star Wars Story, which hits theaters Dec. 16. Thus far, her casting and the mysterious nature of her character, Jyn Erso, has fans asking many questions. But as the release draws closer, we're gradually learning more about the unusual heroine through interviews and promotions. 
Here are seven things to know about the 33-year-old actress:
1. She first met with Rogue One director Gareth Edwards very early in the morning.
Jones told People that she and Edwards met at 5:30 a.m. to discuss the role in a "hushed" conversation. Her agent was the one who tipped Jones off to the role: "My agent said there's a fantastic leading female role in the upcoming Star Wars that I think you're really going to love. That was my first encounter with Jyn, and I went from there."
2. She's been a Star Wars fan since childhood.
On Nov. 28, Jones told Good Morning America hosts: "I remember watching when I was a little girl. I'd watch at my cousin's house with my older brother, and for some reason, we'd be really close to the TV watching it. We would watch it on VHS. I just remember the opening titles going up on the screen." 
4. She strongly believes in equal pay for women.
Jones told Glamour in the January 2017 issue (available on newsstands Dec. 6) that she wants to be compensated fairly for her work. "That's what every single woman around the world wants," she said. "We want to be paid on parity with a man in a similar position. 
5. She has the kung fu skills to fight off stormtroopers. 
When Jones visited The Jimmy Fallon Show on Wednesday, Nov. 30, she had a special skill to share — no rapping or singing involved. Instead, she demonstrated her kung fu prowess, which she acquired while training for the new Star Wars film. Here's a YouTube clip from her recent Fallon appearance:
6. She collaborated with Target to launch a Star Wars T-shirt project for charity.
In honor of the new Star Wars movie, Jones and other entertainment influencers have teamed up with Disney and Target to launch a T-shirt fundraiser called Force 4 Fashion to benefit UNICEF Kid Power. The Star Wars T-shirt line, which was inspired by Jyn Erso's rebellious character, was made available exclusively at Target and launched on Nov. 27. 
7. She knows exactly which Star Wars character would dance to Beyoncé. 
In a recent video produced by Glamour, Jones gave Star Wars characters high school yearbook superlatives. (That Chewbacca is such a gossip.)
Mic has ongoing Star Wars coverage. Please follow our main Star Wars hub.