2017 Obamacare California: Costs, eligibility, deadlines and more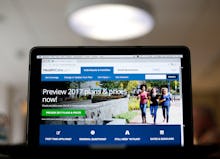 Though the Affordable Care Act has been a hotly-debated piece of legislation since it was signed into law in 2010, few states are proving how effective the policy can be as successfully as California. Widely hailed as one of the most successful state implementations, California's ACA marketplace — Covered California — has provided coverage to 1.42 million residents as of March 2016.
If you're a California resident seeking to purchase an ACA plan in 2017, here's what you need to know.
Eligibility
Under the ACA, all U.S. citizens, nationals and lawfully present immigrants qualify for insurance. Those taking part in California's program are required to be California residents.
California residents will find that they may be eligible for certain subsidies and programs based on their annual income level and how it compares to the Federal Poverty Level. A full chart with program eligibility across FPL percentages and household size for 2017 is available here.
California households earning between 138% and 400% of the FPL and who do not qualify for public or employer-based health insurance, as well as documented immigrants who earn less than 138% but don't qualify for Medi-Cal, are eligible for premium assistance, a tax credit based on income level that helps subsidize monthly insurance costs. 
Those who fall below 138% of the FPL, meanwhile, are likely eligible for Medi-Cal, California's Medicaid program that provides essential health benefits for little or no cost. Seniors, pregnant women, foster children, former foster children under age 26 and persons with disabilities at other income levels may also qualify for Medi-Cal.
Private ACA insurance in California is divided up into four main tiers: Platinum, Gold, Silver and Bronze. Those who earn between 100% and 250% of the FPL, however, may be eligible for Enhanced Silver plans, which offer reduced out-of-pocket costs on co-pays, co-insurance and deductibles.
To determine eligibility for private Covered California insurance, Medi-Cal or any premium assistance and enroll for these programs or subsidies, Californians must fill out an application at CoveredCA.com.
Deadline
California's Open Enrollment Period for 2017 health coverage is currently in progress, with applications open now through Jan. 31, 2017. Those who would like their coverage to begin Jan. 1 must apply by Dec. 15.
Outside of the Open Enrollment period, California residents can apply for coverage through Covered California under Special Enrollment if they have a qualifying life event. These events include getting married, moving to California or losing your existing health insurance.
Californians applying for Medi-Cal can do so at any point during the year.
Plans
A list of the 11 carriers offering health care coverage through Covered California in 2017 is available here.
Of these, two companies — Anthem Blue Cross of California and Blue Shield of California — will offer coverage in every region in the state. Californians can find out more about the options in their specific region using Covered California's Shop and Compare tool.
Costs
The cost for insurance through Covered California will vary for each household, with costs determined by household income, zip code, age and household size, along with what tier of insurance is desired and any financial assistance programs that may apply. California residents can estimate their specific costs using the Shop and Compare tool on the Covered California website.
Using the Shop and Compare tool, a 28-year-old individual in Los Angeles who earns $40,000 annually and needs medium health care coverage (three to five doctor's visits per year and one monthly prescription, excluding dental) can currently expect to pay a monthly premium from $170 to $275 per month for a Bronze plan, or up to $537.93 per month for a Platinum plan, with neither option qualifying for a tax credit. You can also search for family coverage, but prices and tax credits will vary greatly based on the number of dependents and their ages.
California's health care laws also offer some key benefits to its users that help with costs. In 2015, California imposed a cap on prescription drug costs for those on all health insurance plans, whether or not the patient's insurance is through the health care marketplace. The caps on monthly prescription costs range from $150 to $500, with most Covered California consumers' prescriptions capped at $250 per month. California also offers standard benefit plans, which means that all plans at the same tier will offer the exact same benefits, regardless of the insurance company. You can see the benefits and fees involved with each insurance tier here.
To learn more about California's Obamacare coverage, visit CoveredCA.com. For more information about the Affordable Care Act nationwide, visit Healthcare.gov.