iPhone 8 Rumors: Release date, screen size and everything we know so far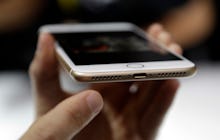 What will Apple release in 2017? A new year is on the horizon, and with it comes a new iPhone. The iPhone 8, as it's being called, is widely anticipated to arrive in September with an ambitious redesign commemorating the smartphone's 10th anniversary. It's still early, but a number of unsubstantiated rumors are spreading around. What's possible, what's likely and what's just a pipe dream? Here's everything we know about the iPhone 8 so far. 
iPhone 8 rumors and leaks: OLED display with Touch ID, wireless charging and more
Edge-to-edge curved OLED display: Business Insider obtained a research note from Barclays analysts Blayne Curtis and Christopher Hemmelgarn describing a "bezel-less design with screen sizes getting larger and curved edges in the original envelope." The analysts went on to predict an OLED display — which is thinner and brighter, despite consuming less battery — outfitted in the Plus model of the iPhone 8.
Glass body with built-in Touch ID: Japanese news outlet Nikkei reported Apple's alleged plans to equip its new line of iPhones with glass backs. According to the report, Apple will release three new versions: 5.5 inches, 5 inches and 4.7 inches. 
In addition, Apple is rumored to embed Touch ID within the body's display, thus eliminating the home button and allowing the screen described above to fill the device's entire front. Cult of Mac dug up a patent that further corroborates this theory. 
Wireless charging: Looks like Apple may finally adopt wireless charging, according to reputable KGI Securities analyst and famed Apple insider Ming-Chi Kuo. 9to5Mac described his report, writing, "iPhone 8 owners will be able to charge their batteries using an inductive pad similar to how the Apple Watch charges." 
That's a bit off the mark from an earlier Bloomberg report that claimed Apple is developing a far superior option for 2017: long-range wireless charging. Let's hope Apple can pull off Bloomberg's version.
Dual optical image stabilization: Another Kuo research note obtained by MacRumors claims two of Apple's iPhone 8 models will possess optical image stabilization in both of its camera lenses. Previously, only the iPhone 7 Plus' wide-angle lens was equipped with the feature, but now telephoto is expected to include OIS as well. (Great news for anyone who loves zooming in really close on Snapchat.) The rumored 5.5-inch and 5-inch iPhone 8s should benefit, while the standard 4.7-inch is expected to retain just one camera lens.