2017 Obamacare: costs, eligibility, deadlines, subsidy calculator and more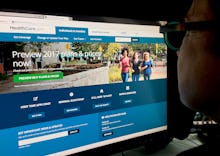 It's time to choose health care for 2017, and if you don't have the option to enroll in an employer-provided insurance plan, you might be looking to buy coverage through the marketplaces created by  the Affordable Care Act, also known as Obamacare.
If you miss the ACA deadline, you'll get stuck with a penalty — either $695 per person in your family, or 2% of your income, whichever is higher. 
Here are a few more crucial sign-up details you need to know to get ACA coverage for 2017.
Who is eligible for Obamacare?
The marketplaces set up by the Affordable Care Act are open to any non-incarcerated U.S. citizen as well as U.S. nationals, including those from territories like Puerto Rico. One exception is if you're already receiving coverage through Medicare. 
U.S. citizens who live outside the country for at least 330 days a year are exempt from the ACA's personal mandate, or requirement, but can still use the exchanges to buy health insurance if they wish. 
How much does Obamacare cost?
Costs for plans under the ACA depend on a number of factors, including your age, whether your smoke and how comprehensive you want your plan to be: Some plans have smaller premiums, but expect you to pay more in out-of-pocket costs. 
Unfortunately, depending on the state you live in, you may need to pay a lot more in 2017 than you did last year: Premiums are expected to increase roughly 25% on average across the country.
These increases were expected; the ACA had programs in place to keep premiums down, but those expired this year, and the Congressional Budget Office projected the hikes as early as 2009.
After factoring in the premium hike, 27-year-olds should expect to pay about $302 a month on average in benchmark plans, although roughly three-quarters of consumers should qualify for subsidies — which will bring the monthly cost down to less than $100. 
How do you get an Obamacare subsidy?
To make sure health care is more affordable, the ACA offers subsidies that make sure your health care premiums are capped at a certain percentage of your income.
HealthCare.gov has a tool to calculate how much your subsidy should be based on your income, although different states will sometimes have different rules. 
Costs may vary based on where you live. For instance, a 40-year-old nonsmoker who makes $30,000 a year in Anchorage, Alaska, will get a tax credit that's the equivalent of $741 in 2017, according to estimates from the Kaiser Health Foundation. 
That's simply because health insurance costs more in Alaska. If you live in a place where insurance is relatively cheap, like in Albuquerque, New Mexico, you may not qualify for a subsidy at all.
When is the deadline to sign up for Obamacare?
Open enrollment for ACA exchanges officially ends on Jan. 31, 2017, although certain exceptions may allow you to enroll in health insurance at any time: These include major life events like getting married, having a baby or losing a job that provided with health insurance. 
Otherwise, unlike with Medicaid and the Children's Health Insurance Program — which you can apply to at any time if you qualify — the only way to enroll in an ACA plan is during open enrollment each year. 
President-elect Donald Trump has made a point of promising to repeal the ACA — even going so far as to appoint Georgia Rep. Tom Price, one of the law's most outspoken critics, to run the Department of Health and Human Services.
But many experts say repealing the law will be difficult and could take years, even with a GOP-controlled Congress.