Trump reportedly invited Filipino President Rodrigo Duterte to the White House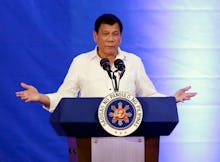 Following a seven-minute phone conversation, Donald Trump reportedly invited Filipino President Rodrigo Duterte to the White House. 
According to Reuters, Duterte returned the invitation, asking Trump to attend the Philippines' Association of Southeast Asian Nations conference — an event the United States president typically attends. 
President Barack Obama had been slated to meet with Duterte this year, but the plans were called off when Duterte called Obama a "son of a whore" in September (though Politico reported Duterte later blamed the media for what he argued was a miscommunication).
Whatever the case, it would be reasonable to expect Duterte to get along far better with Trump: The two share similar trajectories to victory, fueling their campaigns with crass comments and frightening policy proposals, like when Duterte joked about a murdered rape victim, or when he said he would dump criminals' bodies into Manila Bay.
And though Duterte denied any kinship between himself and the then-GOP candidate in April, saying, "It's one thing to be loudmouth but another to be a bigot," he seems to have changed his tune.
"I trust in his judgment that he would be fair in the matter of the treatment of illegal immigrants," Duterte said of Trump, according to Politico. "I cannot talk for the illegals because, whether President Trump or anybody else for that matter, an illegal is always an illegal."
He added, "We both like to swear. One little thing, we curse right away, we're the same."
Though a meeting between the presidents of the U.S. and the Philippines wouldn't have signaled anything particularly worrisome in the past, Duterte's rise to power came with the promise that he would crack down on crime in the Philippines by killing five criminals a week until they're all eliminated. 
Since assuming office, Duterte has only doubled down on such statements, even going so far as to compare himself to Adolf Hitler, saying he'd be "happy to slaughter" the country's criminals.
"Hitler massacred 3 million Jews," Duterte said in September 2016, according to CNN, minimizing the 6 million Jewish people who were killed in the Holocaust. "Now there is 3 million, what is it, 3 million drug addicts [in the Philippines], there are."
The same month, a hitman alleged that Duterte had ordered him to kill a justice official, among several others. If true, well, the revelation wouldn't be too surprising, considering Duterte has publicly admitted to being a member of a death squad. 
Trump, however, plans on keeping an open mind, Reuters reported.
"He is perfectly capable of talking to Duterte in an open way without being wedded to previous policy failures," an unnamed source told the outlet. "If anyone is going to be able to right the ship, it's someone with Mr. Trump's profile."