'Hairspray Live!': When and where to watch the NBC special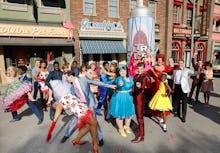 For the last several years, broadcast networks have likely been looking for new hooks to lure in a declining audience. The emergence of streaming platforms, premium channels and compelling cable dramas have led to dwindling ratings for the major networks. One such hook has been live broadcasts of popular Broadway musicals. NBC's Hairspray Live! is the next such adaptation to air.
How to watch Hairspray Live!
Hairspray Live!, which airs Wednesday, Dec. 7 at 8 p.m. Eastern, follows prior NBC live broadcasts including: The Sound of Music Live!, Peter Pan Live! and The Wiz Live! Fans that are unable catch the special live can watch on NBC's app the next day. If you are away from your television, but do have internet access, you can stream the special live by visiting the NBC live page and entering in your cable subscription information. 
The history of Hairspray
The Hairspray Broadway musical, on which the live special is based, is itself an adaptation of the 1988 film of the same name starring Ricki Lake. A mildly successful remake, starring John Travolta as Edna Turnblad, was released in 2007. 
The musical production opened on Broadway in 2002 and topped the 57th Annual Tony Awards in 2003 with eight total wins. We will have to wait until Wednesday to see whether NBC can capture the musical's magic, but with a star-studded cast and great source material, it is not unlikely that the network will lead the night. 
The cast of Hairspray Live!
The NBC live special stars Maddie Baillio as Tracy Turnblad, Dove Cameron as Amber Von Tussle, Kristin Chenoweth as Velma Von Tussle, Garrett Clayton as Link Larkin, Billy Eichner as Rob Barker, Harvey Fierstein as Edna Turnblad, Ariana Grande as Penny Pingleton, Sean Hayes as Mr. Pinky, Derek Hough as Corny Collins, Jennifer Hudson as Motormouth Maybelle, Shahadi Wright Joseph as Little Inez, Andrea Martin as Prudy Pingleton, Rosie O'Donnell as Health Ed Teacher, Ephraim Sykes as Seaweed J. Stubbs and Martin Short as Wilbur Turnblad. 
NBC has had success with their live showings thus far, as both The Sound of Music Live! and Peter Pan Live! were the most watched program the nights they aired, while The Wiz Live! trailed Thursday Night Football.
Hairspray fans can listen to the special's soundtrack ahead of the premiere on Spotify or Apple Music. Watch the musical event when Hairspray Live! airs on NBC Wednesday, Dec. 7, at 8 p.m. Eastern.