Why the Hitchcock fashion in the 'Jane the Virgin' fall finale still matters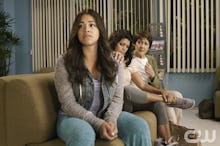 With Jane the Virgin returning with new episodes starting Jan. 23 and Gina Rodriguez's Golden Globe nomination, I'm reminded of the fall finale that aired on the CW on Nov. 28. Specifically, I'm still entertaining all of the wardrobe possibilities that the episode's Hitchcock-inspired fashion opened. Despite the show's clear aesthetic, its wardrobe had never before felt like such a conscious narrative device as it did in "Chapter Fifty-One." In past episodes, Jane's fashion was simply a nod to the Latin American soap operas, or telenovelas, that so many millennial Latinos grew up watching on Univision and Telemundo — including myself.
One of the reasons why Jane the Virgin is so "miraculously good," to borrow Vulture writer Margaret Lyons' words, is that it satirizes telenovela tropes while still using them to the show's full advantage. Since episode one, the creators have brilliantly reinterpreted the world of telenovelas. Jane the Virgin, which is an adaptation of the Venezuelan telenovela Juana la Virgen, co-opts the telenovela wardrobe style without replicating it thread by thread. 
A twist on telenovela fashion
Just as New York Times writer Alessandra Stanley pointed out, Jane's cinematography is more "artful" than that of Juana. The same goes for its costumes. Jane costumes have the air of being telenovela costumes without being full-blown telenovela costumes. In the Hitchcock scene, the costumes removed viewers from the world of telenovela completely. 
Typically, telenovela looks tend to be severe. They are generally quite colorful and overtly sexy. Bright eyeshadow, ample cleavage and big hair are the norm. Juana la Virgen perfectly evidences that style.
While the fashion on Jane is fun, it's less stereotypically sexy. That's not a moral judgment; it's an observation. The necklines in Jane tend to be higher, the skirts a little less fitted and the scarlet red wardrobe choices less frequent. In 2015, Bustle writer Rosie Narasaki deemed Jane "the most stylish show around" for its "youthful" sundresses and "almost fairy tale-esque palette." It's hard to imagine Jane in some of the flamboyant dresses and makeup that appear in the Venezuelan show. 
A lighter approach to hair
Even the hair on Jane, while obviously styled, is not over the top. While the hair is very similar to what you see on most U.S. TV shows these days, it's not telenovela hair. Racked writer Julia Rubin wrote a story last year describing all women's hair on TV as "straight-up-top, loose-curls-on-bottom hair." (And it's true. Once you see it, you cannot unsee it.)
There's a reason why the characters in Jane have the same hair that you see on virtually all U.S. TV show actresses now.
"The show's creator, Jennie Snyder, is really natural and real, so she wanted the show to have a more natural, undone look," Michelle Rene Elam, Jane's hair-department head, told Allure in a January 2015 interview. "We decided to keep Gina's hair fun and alive but still low-key enough that it doesn't look like she spent a lot of time on it. For all of the characters, we figured out which styles would work best with their hair in a natural sense and then changed it to fit the characters they would be playing."
The Hitchcock surprise
While Jane's navy and white dress from "Chapter Fifty-One" was a cute and predictably on-brand ensemble — stylish, tailored and festive — her Rear Window (based off of the 1954 film directed by Alfred Hitchcock) look was not. Entertainment Weekly's C. Molly Smith did a full fashion recap of the Hitchcock sequence. She catalogues the various '50s-style clothing choices — such as an empire-waist dress, pearl necklace, curled hair and red lipstick for Jane — that come after Jane begins taking her writing group's advice and studying up on how to build suspense in her fiction. 
What Jane's fashion means
While it's easy to see how the Hitchcock fashion furthered the story, it's tempting to say that all other Jane fashion is simply, well, a bunch of pretty clothes. But it's not. Those clothes carry a message: Latinos are not a monolithic group and Latino millennials are their own distinct demographic. Jane acknowledges that we are different from our parents and that's why it's unlike the telenovelas made for them.
According to Pew Research Center, Hispanics and Latinos are the youngest of the country's major racial and ethnic groups. Pew also notes that one-quarter of the Hispanic and Latino group are millennials and that we are less likely to be immigrants and more likely to speak proficient English. In other words, Jane Gloriana Villanueva fits the bill. 
Culture is not stagnate and television is not exempt from that evolution. Jane the Virgin proves that TV can (and should) cater to and represent communities as they actually are, not as they are stereotyped. Jane the Virgin is not a show for our mothers, it is a show for us (and, yes, mami is welcome to take a seat on the couch with us). That's why it can incorporate U.S. cultural touchstones like the movies of Alfred Hitchcock without feeling out of place.
And now that season 4 has officially been renewed, I wonder what further creative costume play is to come.