Italy's upcoming referendum vote could end up being a vote for populism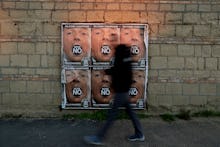 Italians are gearing up for a vote on a crucial referendum package on Sunday that could help lay the groundwork for the future of the country's populist movement if the "no" vote succeeds.
According to the New York Times, young voters in particular seem primed to vote "no" on the referendum, which proposes an overhaul of Italy's technocratic parliamentary system.
But if that happens, the country's prime minister, Matteo Renzi, has pledged to step down — a move that would open the door for his opposition, the controversial Five Star Movement, whose supporters are nicknamed "Trumpisti" for the similarities they share with supporters of the United States' own insurgent populist candidate, President-elect Donald Trump.
"A 'no' vote is a vote against Renzi," 25-year-old liberal activist Matteo Roselli told the New York Times simply.
A "no" vote seems not only possible, but likely. Polls from July 2016, the most recent available, had the Five Star Movement's popularity holding at 30.6%, with support for Renzi's Democratic Party trailing behind at 29.8%, according to Reuters.
The global spread of populism
The Italian referendum vote is scheduled to take place just days after French President François Hollande announced that he does not intend to seek re-election amid the surging popularity of his country's own populist candidate, the far-right National Front's Marine Le Pen.
While the Washington Post notes that a "no" vote would not symbolize an outright rejection of the European Union in the same way that the United Kingdom's Brexit vote did in June, it would be a vote in solidarity with the Five Star Movement's founder, Beppe Grillo, who has said he would support a referendum to remove Italy from the Eurozone. 
Even the threat of abandoning the euro is enough to rattle an already skittish Italian economy, the New York Times reports. But still, many of the country's youth — who have not had much experience with Italy's history of corrupt governments — are throwing their support behind Grillo, a tough-talking former member of the entertainment industry who has pledged to do away with the "establishment." Sound familiar?
"In general, the young voters are disinterested [in the referendum vote] or for 'no,'" 24-year-old Stefano Angelinis told the New York Times. "Many young people are going for Five Star."