'Jackie' Kennedy Movie: Separating fact from fiction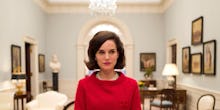 One of this year's most stirring films is a portrait of a real life lived. Jackie, directed by Chilean auteur Pablo Larraín, chronicles the tumultuous life of Jackie Kennedy in the few days following the assassination of her husband, President John F. Kennedy. At 99 minutes long, the film fixates on Jackie's grief over the traumatic death of her husband, and only really goes back in time to show us footage from her famous White House tour. 
While the Natalie Portman-starring film captures the grief and foresight of the first lady, particularly as she considers her legacy now that she's forced out of her 1600 Pennsylvania Avenue home, a question rises as the film comes to a close. 
Are all of these things about Jackie Kennedy true? 
Tracking what actually happened, what's real in Jackie, is a tricky endeavor. Larraín's film — with a script from Noah Oppenheim — provides us with several Jackies, and is a dramatization of the many faces the public figure put on depending on who she was dealing with, what she needed and ultimately how she thought it was best to protect her husband, her family and herself. The film isn't as interested in the facts or a play-by-play, but the inner recesses of Jackie's mind. 
Keeping this in mind, we took a closer look at the film to make a distinction between what is creative invention and what actually happened during this infamously turbulent time in American history. 
The interview 
Jackie opens with the new widow — a week after her husband's death – giving an interview to journalist Theodore H. White (Billy Crudup) for Life magazine. As bizarre as it may seem that Jackie Kennedy would want to give an interview so soon after her husband's death, a conversation did in fact take place — as it does in the movie — at the Kennedy compound in Hyannis Port, Massachusetts. 
Ultimately, only snippets of the conversation between White and Jackie ended up in White's "Epilogue" — a brief feature near the end of the Dec. 6, 1963 issue of Life — but Jackie is careful to get the main points right. 
"In terms of what that interaction would look like throughout the film, it's based on what we know of how she controlled her image and interacted with the press," Oppenheim told Vulture. 
Although we will never know what the conversation looked like, in the film Jackie smokes — something she did in real life despite it never being photographed — she edits and revises the interview, and, as seen in the article, she coins the term that became amongst the most significant to describe her husband's presidency: Camelot. 
In the film, Jackie explains that despite all of JFK's knowledge, the only thing she can remember is his love for the musical Camelot. She explains how the two would listen to the record before going to bed, and in both the film and actual interview, she quotes one of JFK's favorite lines from the production. 
"Don't let it be forgot, that once there was a spot, for one brief shining moment that was known as Camelot," she states. Another line in the movie is also taken verbatim from the interview, and as White makes clear, it was her attempt to tie the idea of a Camelot to JFK's presidency. "There'll be great Presidents again — and the Johnsons are wonderful, they've been wonderful to me — but there will never be another Camelot again."
The end of White's interview addresses some things that were not mentioned in the movie: Jackie's reluctance to ever move to Europe, bringing up her children, and how she wanted her husband's name carved into the Saturn rocket booster once the U.S. was in space.
The White House tour 
Perhaps no moment in the film is quite as accurate as the televised White House tour Jackie Kennedy gives to the country. With the special airing on CBS, and over 45 million people watching, Larraín, Portman, and the rest of the Jackie crew replicated the actual black and white tour to a T. He could have used actual footage, but he filmed the scene with Portman. 
"We had to make two different versions [of the wool bouclé Rodier suit]," Madeline Fontaine, the film's costume designer told the New York Times. "One in the original shade of dark red, and another in pink, so that it would read as gray on camera, just as it did in the black-and-white original."
The hour-long tour of the White House took place on Valentine's Day in 1962, and saw Jackie effortlessly explain every single room and heirloom that belonged in the White House, including the ones brought to the White House under her renovations. 
A particularly memorable moment from the tour, one that Larraín wisely captures in an effort to express Jackie's anxiety about fading into obscurity, takes place in the Lincoln bedroom. There's a painting of President Lincoln, assassinated just like her husband, on one side of the Lincoln bed, and on the other a much larger portrait of Mary Todd. 
The real Jackie did, in fact, go into Mary Todd Lincoln's fate after her husband was killed by John Wilkes Booth.
"Not many people know that Mrs. Lincoln sold a lot of furniture after her husband's death because she was destitute, a lot that she'd bought and a lot of earlier furniture," she states during the tour. "One of the ways we get most of our furniture back is from people who got things from that sale."
We don't see this exact moment from the tour in Jackie, but the anxiety is replicated in a later scene where Jackie, overwhelmed with emotion, thinks of selling her own furniture to put her kids through school. She alludes to Mary Todd Lincoln. She once again finds herself in the room, with the paintings, when talking to Robert F. Kennedy (Peter Sarsgaard), her brother-in-law. 
The priest
Following the death of President John F. Kennedy, Jackie shows the first lady interacting with her few confidantes. There's White, her brother-in-law, her secretary and longtime friend Nancy Tuckerman (Greta Gerwig), and Father Richard McSorley (John Hurt). Of all these figures, the only fictional one is the priest, who appears in several scenes throughout the movie to provide comfort to Jackie.
While Jackie was a Catholic and had corresponded with priests and members of the clergy throughout her life, McSorley is a completely invented character that serves to show how she struggled with her fate after his death. 
"I was trying to depict a more raw, unfiltered version of her," Oppenheim told Vulture. "We know from research and from letters that have recently been uncovered that she wrote to various members of the clergy in the year after the assassination. She did descend into a pretty dark place; she was really grappling with her faith, her will to live, her sense of justice in the world."
In 2014, old letters between Jackie and an Irish Catholic priest, Rev. Joseph Leonard, were revealed to the public. In one of the letters — there were over two dozen written between 1950 until Leonard's death in 1964 — she details her understanding of the man she is about to marry. 
"If he ever does ask me to marry him, it will be for rather practical reasons — because his career is this driving thing with him," she said.
This awareness of her marriage is present in Oppenheim's script. In a meeting with McSorley, Jackie states bluntly that she could have married anybody but she choose to "marry a Kennedy." Her self-awareness, not only about marrying into public life, but about the man her husband was is implied throughout the film. 
"He's like my father in a way — loves the chase and is bored with the conquest — and once married needs proof he's still attractive, so flirts with other women and resents you," she wrote about JFK in another letter.
Correction: Dec. 28, 2016