Jury in Michael Slager trial says it can't reach consensus in Walter Scott murder case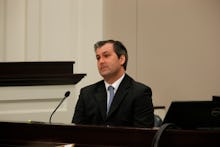 Jurors in the trial of Michael Slager — the former South Carolina police officer facing murder charges in the April 2015 shooting death of 50-year-old Walter Scott, an unarmed black man — told a judge on Friday that they were unable to reach a consensus. 
According to CNN, after jurors told the judge they did not believe they could reach a consensus, the judge instructed them to keep deliberating. "You have a duty to make every reasonable effort to reach a unanimous verdict," the judge said, according to CNN.
The 35-year-old former officer testified on Tuesday that shooting Scott was in line with the training he had received, telling the courtroom he "fired until the threat was stopped as I was trained to do,"  the Associated Press reported.
Cell phone video taken by a bystander captured the moment Slager opened fire on Scott during a traffic stop. The footage, which showed Slager firing at Scott as he fled on foot, caused outrage nationwide.
According to CNN video from inside the courtroom, the judge told jurors that if they could not agree on a verdict, the case would be declared a mistrial and the case would be tried again with another jury.