'A Monster Calls' review: JA Bayona's new film is an emotional reminder of how art heals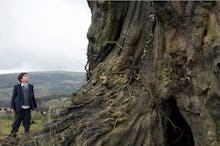 Spanish director J.A. Bayona will helm Jurassic World 2, which he has teased will take on a darker, scarier tone than its predecessor. But those looking for a glimpse of what Bayona will bring to the franchise won't find much in his latest film, A Monster Calls. The movie doesn't offer many parallels — aside from a gigantic CGI creature (you'll definitely see those in Jurassic World 2). 
A Monster Calls, based on the novel of the same name by Patrick Ness, may struggle to find an audience. It's intended to be a children's movie — in the vein of this year's The BFG and Pete's Dragon — but offers a weighty narrative that will leave many moviegoers, old and young, clamoring for a box of tissues by the end credits. That A Monster Calls is an inevitable tearjerker isn't inherently good or bad, though.   
On the whole, A Monster Calls makes for compelling viewing which offers two important themes that is executed in a way few movies have managed this year. 
In real life, the line between good and bad is often blurred.  
A Monster Calls follows 13-year-old British boy Conor (Lewis MacDougall), who is struggling to come to terms with his mother's (Felicity Jones) cancer, that is increasingly likely to become terminal. In the depressing inevitability of his mother's death, Conor similarly has to accept he will soon live with his cold and hovering grandmother (Sigourney Weaver) while his father (Toby Kebbell) has settled with his own life, and new family, in Los Angeles. 
One night, Conor is visited by a colossal tree monster. The Monster (voiced by Liam Neeson) tells Conor three stories on three different nights when he visits him at precisely 12:07. In return, he asks for one story of "truth" from Conor. 
The stories from the Monster ring a familiar tune. The first features a Prince Charming-type that must topple an evil witch that married the king, poisoned him and killed the prince's love interest. On the surface, it's a traditional good-versus-evil narrative, but the clichéd story takes a dark twist at the end. The woman was a witch, the Monster explains, but she didn't poison the king — he died of old age. The prince, meanwhile, murdered his love interest in order to frame the witch and take the throne. He was, ultimately, a good and fair king that had a prosperous reign. 
The other stories from the Monster — a medieval tale of the hypocrisy of religious faith, and an "invisible man who had grown tired of being unseen" — offer similar conclusions for Conor: The line between good and bad is often blurred. His grandmother may appear cold and distant, for instance, but she is reconciling with her daughter's impending death in different ways. Conor's father recognizes his son's pain, and comforts him, but can't offer him a refuge from his grandmother in America. That doesn't make him a bad person, either. 
They don't live in the desperate denial that Conor clings on to: that his mother will eventually be on the mend from the cancer, perhaps with a new treatment. This isn't Conor's fault — he's only 13, and it's heartbreaking to process as a viewer — but A Monster Calls provides differing perspectives on the process of grief. Like the stories from the Monster, the ways in which the characters grieve aren't definitively right or wrong. 
A Monster Calls is an emotional reminder of the power of art as healing. 
The biggest commonality between Conor and his mother is their love of art. Like his mother — who had plans to go to an art college before she became pregnant with Conor — he is a budding artist, who finds solace in his drawing and painting. A Monster Calls reflects a theme on art that feels especially timely in 2016: Art, in its many forms, is an effective method of healing. We can use art, for one, as a medium to cope with Donald Trump's presidency.
Concurrently, art can be used to cope with death; not as escapism, but a new way to confront it. Mic's Kevin O'Keeffe wrote about how the Broadway play Falsettos helped him process the grief he felt after his father's death. 
"Yet after Falsettos, as I sat with my mom, her best friend and my boyfriend, I felt such a weight lifted from me," he wrote. "I felt like, after weeks of struggling with my grief, this show had given me an outlet. I wasn't done grieving, but I made progress. I felt like I was more at peace with his death than ever before." 
The Monster was, as the film telegraphs in its conclusion, part of Conor's grieving process, intertwined with his and his mother's art. Bayona technically never reveals if the Monster was purely a form of imagination, or something more real. But that isn't the point. What matters is Conor's experience and how we, the viewer, empathize with his pain. Leaving the theater needing a box of tissues, it certainly achieves this.  
A Monster Calls will be released in limited theaters this Friday. The film will be available in theaters nationwide on Jan. 6.