iPhone 8 YouTube Videos: Concept design ideas show what 2017 Apple device could look like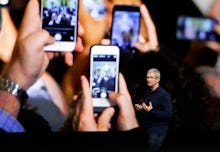 What will the iPhone 8 look like? 
Despite the recent release of the iPhone 7, anticipation is already ramping up for Apple's next-generation smartphone.
The device is expected to leap over the traditional "s" classification and take the name "iPhone 8" in celebration of the first iPhone's 10th anniversary. It's not just the name that's a special occasion — the iPhone 8 is allegedly shaping up to introduce a radical redesign as well. 
Wireless charging, curved screens and a glass body are just some of the features Apple is rumored to unveil at its 2017 iPhone reveal. For a succinct explanation, check out our recent rumor roundup for the iPhone 8. However, if you're looking for a visual guide these YouTube concept design videos will showcase the speculation surrounding Apple's new device. 
Three great iPhone 8 YouTube concept design videos
In "The iPhone 8 Will Be Incredible!," popular Apple channel EverythingApplePro offers a comprehensive breakdown of the more believable rumors surrounding the iPhone 8. As the video's host says, the channel did well to accurately predict most of the iPhone 7's features save for a couple errors. This one is essential viewing for anyone curious about the next Apple device.
CNet's latest episode of "Apple Byte" gives an entertaining summary of the latest Apple news circulating around the internet. Much of it revolves around the iPhone 8, including a recent report from the Wall Street Journal claiming that Apple is testing 10 different prototypes for its next device. There's also some tidbits about Apple's wireless earbuds, the AirPods, which the company surely hopes will be used in conjunction with the iPhone 8. 
By no means is this an official trailer, but Techscinium provides a sleek view of the iPhone's future, complete with concept photos and anticipated specs. In just over three minutes, the video covers the plausible features expected in the iPhone 8. For those running short on time, consider watching this option for a quick summary of the information found in the first, longer video.