Taiwan president call to Donald Trump will not harm China relations, says Chinese minister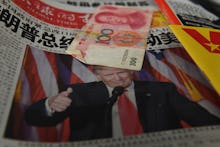 President-elect Donald Trump has reportedly spoken on the phone with president of Taiwan Tsai Ing-wen, three sources told the Financial Times on Friday, and Trump's transition team confirmed the report through a readout shared with reporters via email. 
While it's obviously traditional for presidents-elect to exchange friendly and congratulatory calls with other heads of state, the United States has not in 37 years officially acknowledged the government of Taiwan, which China considers a rogue province. Early reports raised concerns that this call could provoke backlash from the Chinese government, and some experts even warned of military aggression.
An agreement between the United States and China — the so-called "One-China policy" — was formalized by President Jimmy Carter in 1978, with the official closure of the U.S. embassy in Taiwan the following year.
Neither China nor Taiwan acknowledges the other as legitimate, and per the agreement, the U.S. acknowledges Beijing as the only center of power in greater China.
While the policy is not perfectly observed — and there are certainly unofficial relations between the U.S. and Taiwan — the Financial Times reports that Trump's call likely marks the first incident of presidential communication with Taiwan since 1979. 
"The Chinese leadership will see this as a highly provocative action, of historic proportions," Evan Medeiros, former Asia director at the White House national security council told the Financial Times. "Regardless if it was deliberate or accidental."
The diplomatic situation between China, Taiwan and the U.S. got even more sensitive at the start of the year, when Taiwan's elections installed a more pro-independence party into power.
An effort from Taiwan to move toward full independence could possibly lead to war between China and Taiwan.
Sen. Chris Murphy of Connecticut said he believes the unprecedented nature of Trump's calls with foreign heads of state could also lead to conflict. In a series of tweets he said these types of diplomatic pivots are "how wars start."
Earlier today, China reiterated its position about U.S. relations with Taiwan while speaking about a separate issue involving a defense bill currently proposed in Congress. 
"China firmly opposes the United States and Taiwan carrying out any form of official contact or military exchange," Foreign Ministry spokesman Geng Shuang said in a statement, reported by Reuters.
Trump has suggested in the past he would be open to taking a tougher stance in support of Taiwan as a cudgel against China, suggesting he is not unaware of the region's many diplomatic sensitivities. 
The blog Shanghaiist reports that officials from the Trump Organization have expressed interest in building a series of hotels in Taiwan.
In addition to angering China, new Trump hotels in Taiwan could add to the ever-growing list of potential conflicts of interest for the president-elect if he does not fully divest of his businesses before taking office.
The Trump transition team didn't respond to request for comment answering which country actually placed the call. A spokesman with the Chinese embassy in Washington also declined to comment.
Trump later stated in two tweets that Tsai Ing-wen "called me," in all caps, to congratulate the real estate mogul on winning the election. He added in a corresponding tweet that he finds it "interesting how the U.S. sells Taiwan billions of dollars of military equipment but I should not accept a congratulatory call."
Following the reports, Chinese foreign minister Wang Yi said the call would not alter China-US ties, according to a statement published in Chinese media and translated by Chris Buckley of the New York Times.
Dec. 2, 2016, 11:10 p.m.: This story has been updated.