Medical students are protesting against the nomination of Tom Price for HHS Secretary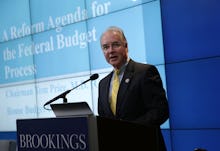 President-elect Donald Trump's appointment of Tom Price to serve as secretary of health and human services in his administration has held its fair share of critics with regard to Price's questionable past with reproductive rights. However, the appointment has been supported by the American Medical Association and the Association of American Medical Colleges, two of the biggest medical associations in the United States. 
In the days after the Price pick, members of the medical community have petitioned against the appointment with open letters and the hashtag #NotMyAMA trending on Twitter. 
In a similar protest to Price, American medical students have published an open letter on Medium citing their grievances. As the letter — which has since been signed by over 1,800 physicians from all states — explains, the long-term effects of Price's appointment will particularly affect those just entering the industry. 
"As America's medical students today, we, the undersigned, will be America's physicians tomorrow," the letter opens.  
The letter then cites the issues that will stem from Price as HHS, including his support of repealing the Affordable Care Act and plans to restructure Medicare. 
"No matter how much training, passion, or commitment physicians bring to work each day, we can only carry out our mission to heal if our patients can access our care," the letter continues. "Thus, while we respect Rep. Price's accomplishments as a physician and commitment to public service, and appreciate his support for academic medicine and Graduate Medical Education funding, we do not join the AAMC and AMA in supporting his nomination. Instead, we hope to represent a generation of physicians who value our patients' interests above our own." 
Amidst the backlash of their support of Price, the AMA responded in a Facebook post explaining — for a second time — why they are backing Trump's pick.
"The election is now over, and as happens in every election, one candidate won and now must choose his Cabinet," the post reads. "And as a non-partisan organization, the AMA has an obligation to work with the incoming administration and strive to find common ground."   
But as the medical students' open letter concludes, the wellbeing of patients is more important than the "crosshairs of political gamesmanship."
"Americans have entrusted both their government and their physicians to protect their health," the letter concludes. "From our studies of evidence-based research and our daily experiences in hospitals and clinics across the nation, we know all too well the devastating effects that these changes will have." 
You can read the full letter on Medium protesting Price's appointment here.