Amy Schumer is in talks with Sony to star in live-action Barbie movie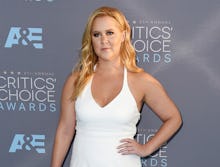 While the phrase "live-action Barbie movie" sounds problematic in nature for Sony, the studio has made a promising first step. According to a report from Variety, comedian Amy Schumer is currently in talks to star in the lead role as Barbie. In addition, Schumer would have the opportunity to rewrite and retool the script with her sister, Kim Caramele, a co-writer on the comedian's sketch comedy series, Inside Amy Schumer.  
The current plot for the Barbie movie, per Variety, is similar to the likes of Enchanted, in which the titular character is "kicked out of Barbieland for not being perfect enough and lands in a real-world adventure." 
Schumer being Sony's first choice meets the studio's need for a contemporary take on Barbie. Schumer has been a champion for body positivity since her career hit the mainstream, which — just in 2016 — has seen her called "plus size" by Glamour and slut shamed by a 17-year-old film critic on Twitter (though she did have an excellent clapback for that one). Throughout her career, Schumer has promoted body positivity in Instagram photos and interviews. 
Schumer in the role of Barbie — which, by the way, traditionally has a figure that is anatomically impossible to emulate — hasn't been lauded by everyone, however. Criticisms of Schumer's potential casting have been appearing in droves on Twitter, some of which have targeted the comedian's weight and appearance. 
However, given Schumer's measured responses to haters in the past, this likely won't affect her decision to accept the role or not.