3 years after Nelson Mandela's death, these people are working to carry out his legacy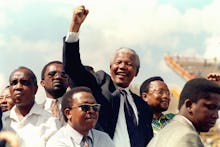 The story of Nelson Mandela's life is known the world over as an inspiring journey of perseverance and justice. Mandela helped to tear down apartheid in his home nation of South Africa. He didn't do it with a coup, but rather through his words and his commitment to his cause, a commitment that included spending more than a quarter of his life behind bars. 
His years in prison are but a part of his story: After his release he helped bring about a peaceful transition that made his nation a democracy for all, not just the descendants of white European colonists. He wasn't vengeful toward the government which imprisoned him either, and worked to include them in the post-apartheid South Africa. He continued to work on other issues after his presidency, including notably the HIV/AIDS epidemic in Africa.
His death three years ago in December 2013 left a void this world has yet to see filled. But there are individuals who try to exemplify what he stood for, who continue to work towards his vision of a world that respects rights and freedoms for all of humanity.
Mandela once said, "What counts in life is not the mere fact that we have lived. It is what difference we have made to the lives of others that will determine the significance of the life we lead." These individuals have certainly made a positive impact in the lives of people around the world.
Malala Yousafzai
She wasn't alive while Nelson Mandela was in prison, but Pakistani-born Malala Yousafzai certainly has followed in the footsteps of the civil rights icon. Yousafzai called Mandela "a perpetual inspiration for me and millions of others around the world."
Yousafzai's story is partly tragedy but mostly inspirational: As a young girl in Pakistan, whose only crime was encouraging girls to receive an education and seeking one herself, Yousafzai was shot in the face by Taliban forces for her defiance of their reactionary rules.
Yousafzai persevered and continued to advocate for equal access to education. She received surgery for her injuries, and she spoke at the United Nations following her recovery in 2013. Her attitudes toward her assailants are especially inspiring, considering how forgiving they are:
I am not against anyone. Neither am I here to speak in terms of personal revenge against the Taliban or any other terrorists group. I am here to speak up for the right of education of every child. I want education for the sons and the daughters of all the extremists especially the Taliban.
In 2014 Yousafzai herself became the youngest recipient of the Nobel Peace Prize, in recognition for her struggle to encourage education for girls across the globe. 
Yousafzai is dedicated toward her passion of education for those who are otherwise restricted from it. After receiving the Nobel Prize she and her foundation opened a school in Lebanon for Syrian refugees. And her words continue to inspire. "There's so much to do," she said, adding, "I won't stop until every girl can go to school."
Kailash Satyarthi
Sharing the Nobel Peace Prize award with Yousafzai in 2014, Kailash Satyarthi of India has also demonstrated his commitment toward children's rights, and has earned his place in the list of names of those who follow Nelson Mandela's ideals.
Satyarthi, born in 1953, is an advocate for children in India who has fought against slavery and other terrifying conditions that young Indians still endure to this day. "I cannot tolerate the loss of freedom of any single child," he said. "We cannot accept this to happen."
Satyarthi founded Bachpan Bachao Andolan, or Save the Childhood Movement, and began his work trying to free children from deplorable situations. In all, Satyarthi and his colleagues have saved more than 80,000 children from exploitative working conditions in India. He has advocated for positive changes to Indian law, and fights against practices that still force millions of children into work against their wills.
Satyarthi's Nobel Prize acceptance speech made his goals clear: 
My only aim in life is that every child is free to be a child,
Aung San Suu Kyi
Nelson Mandela spent 27 years behind bars. If anyone on this list can relate to imprisonment in support of an ideal, it is Aung San Suu Kyi, who has spent much of her own life under house arrest for her commitment to democracy in Myanmar. 
Suu Kyi was born in Myanmar in 1945. Her father, who served as prime minister and was considered a hero of his nation (then known as Burma) was assassinated when she was just 2 years old. She left her home to pursue an education. When she returned in 1988 to Myanmar she was not happy with the events unfolding following then-dictator U Ne Win's resignation, with a military junta resuming his undemocratic practices in his leave.  
In September of 1988, the military made it illegal for groups of more than four individuals to gather for political purposes. Despite this ban, Suu Kyi traveled throughout Myanmar in 1988 and 1989. She was placed under house arrest in July of 1989.
Her political party won elections after her detention, but the military junta refused to accept them. Suu Kyi was imprisoned for fifteen years during the period of 1989 to 2010. She won the Nobel Prize for Peace in 1991 during her first sentence. 
Throughout her political career, before and after her imprisonment, Suu Kyi advocated for nonviolent responses to political oppression. She even shares Mandela's beliefs about those who restricted her own freedoms:
To view the opposition as dangerous is to misunderstand the basic concepts of democracy. To oppress the opposition is to assault the very foundation of democracy
Suu Kyi was released in 1995, but detained and placed under house arrest again several times between then and 2010. In that year, however, free elections were held in Myanmar, and six days later Suu Kyi was released for good. She continues to play a prominent role in Myanmar politics, and earlier this year she was named State Counsellor, a special position created within the government that puts her on par with the nation's president.
The Elders
On his 89th birthday in 2007, Nelson Mandela announced the formation of a new foundation that would be dedicated toward the promotion of human rights around the globe. He called this group The Elders and included within its ranks an assortment of noted dignitaries from around the world.
The group includes and has included former President of the United States Jimmy Carter, women's rights activist Ela Bhatt, former Mexican President Ernesto Zedillo, former and first woman President of Ireland Mary Robinson, South African Archbishop Desmond Tutu and many others. Former U.N. Secretary General Kofi Annan is the current chair of the organization.
The Elders host discussions and promote ideas on a myriad of topics. They have railed against restrictions for refugees, arguing that the solution to the crisis cannot be found in building more walls. The Elders have also promoted action on climate change, advocated for gender equality around the world and called for universal health coverage for the entire human population.