Trumpgrets creator launched blog for "therapeutic" effect of reading Trump voter regrets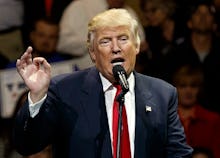 Voter's remorse has set in. 
Though he has not yet taken the oath of office yet, President-elect Donald Trump has already lost the support of some Americans who voted for him. According to screenshots captured by a new Tumblr page, Trumpgrets, several Trump supporters have expressed dissatisfaction with how Trump has begun his tenure as president. 
Some expressed dismay at his policies. 
Some were not happy that he seemed to flip on some of his earlier promises, though they were not clear about which promises Trump waffled on. 
At least one Twitter user was upset that Trump would not prosecute Hillary Clinton, despite using the chant of "Lock her up!" to galvanize support at his rallies. 
And a few Twitter users feel that, as Trump builds out his Cabinet, he's looking like more and more of a Washington insider than the person they elected to the White House.  
Not all of Trump's detractors were faceless Twitter users either. Some of the criticism on Trumpgrets comes from some of Trump's biggest fans: former Congressman Joe Walsh and right-wing provocateur Ann Coulter, who famously mixed up Beyoncé and Nicki Minaj while trying to criticize Michelle Obama. 
The blog started because of "how soothing it was reading these tweets," the creator of Trumpgrets said in a direct message to Mic.  
"Like many people of my political bent, I was emotionally devastated by the results of this election and needed an emotional balm," the blog's creator, who wished to remain anonymous, said. "Judging by the responses to this blog, I think this 'therapeutic' effect is shared by the readers."
The blog's purpose is "purely therapeutic" at this point. 
"I recommend readers play New Age music in the background as they read it!" the creator said. "As long as people are soothed, the blog has served its purpose as far as I'm concerned."