Christmas tree delivery 2016: How to get a tree delivered in NYC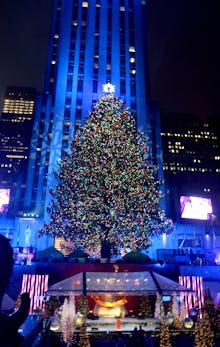 This time of year is routinely busy, especially for New Yorkers who are constantly rushing. In the city that never sleeps, you can now overnight your Christmas tree: What a time to be alive.
If you're one who is constantly on the go, but wants to get into the holiday spirit, these six places will be your saving grace. 
NYC Trees: For $89, you can get your own three-to-four foot premium Fraser fir at your doorstep. If you live in Manhattan, Brooklyn, Queens or the Bronx, NYC Trees will bring and install your tree in your home. Prices vary depending on the size of the tree.
If you're feeling the need to splurge, NYC Trees also offers tree decoration services starting at $125 and tree removal services starting at $50.
Tyler's Trees: Starting at $139, Tyler's Trees offers a Christmas Tree Package that includes installation of the tree with the stand and skirt. From Dec. 28 until Jan. 11, tree removal services will be offered for starting at $50. 
If you're looking, or even have the space, for a tree over 9 feet tall, you're eligible for Tyler's Elite Service. Tyler employees will visit and measure the site where the tree will go, free of charge. A representative from Tyler's Trees will also be there the day of installation to make sure the tree gets there on time and in one piece. 
SoHo Trees: SoHo Trees, a company Kelly Ripa has raved about, will deliver your Christmas tree before the holiday starting at $129.95. Pricing depends on the size and type of tree you request. SoHo Trees carries Fraser fir, Noble fir, Canadian balsam, grand fir and Nordmann fir trees. 
Here is where you can find the closest SoHo Trees near you. Note: prices online may be different than those in-store. 
Tree Riders NYC: Tree Riders NYC, the East Village based pop up located at the St. Mark's Church between 10th Street and 2nd Avenue, will deliver your tree to you by bike. Tree Riders provides Fraser, Douglas, and Canaan firs ranging from anywhere between 2 to 20 feet in height.
It might not be as big as the one in Rockefeller Center, but those that live in Manhattan can order their Christmas trees by calling (646) 470-6326 or e-mailing treeridersnyc@gmail.com. 
Christmas Tree Brooklyn: Christmas Tree Brooklyn promises New Yorkers something they cannot refuse: Free shipping. By choosing the size of your ideal tree — either online or at their Brooklyn site — and a date you'd like it to be installed, Christmas Tree Brooklyn will get your Christmas tree to your door starting at $36. Tree removal and cleanup goes for $49.99. 
Home Depot: Home Depot comes in clutch this time of year. You can order your Christmas tree online and have it sent directly to your home right before the holidays. From fiber-optic to pre-lit, Home Depot has a wide variety of trees to choose from, the smallest being $20-$30.