Drunk men screaming Trump's name tried to remove a Muslim woman's hijab on the NYC subway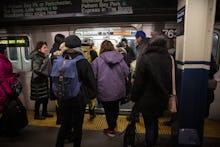 On Thursday in New York, three drunk men screamed "Donald Trump!" and anti-Islamic slurs at a Muslim Baruch college student and tried to rip her hijab off her head, the New York Daily News reports. 
Yasmin Seweid said that no one came to her aid while the three men carried out the assault. 
"It made me really sad after when I thought about it," Seweid told the Daily News. "People were looking at me and looking at what was happening and no one said a thing. They just looked away."
Seweid said she heard the trio yell something about Donald Trump and then the word terrorist. She was standing on an uptown-bound platform on the New York subway. They began to harass her as she boarded the train. 
"Get the hell out of the country!" they yelled, according to Seweid. "You don't belong here!" Seweid was born in Brooklyn. 
Seweid ignored them, which only provoked them further. They pulled on her bag and broke its strap. She turned and asked them to leave her alone, and they began to laugh. 
She walked to the other end of the train, where she claims they tried to pull off her hijab, screaming, "Take that thing off!" 
"I put my hand on top of my head to hold it," Seweid said, according to New York Daily News. "Then I turned around and screamed 'What the (expletive).'"
Seweid got off the train and reported the incident to the authorities. 
Seweid wrote about the incident on her Facebook on Friday morning. 
"Trump's name was repeatedly said and it finally clicked in my head," Seweid wrote. "No matter how 'cultured' or 'Americanized' I am, these people don't see me as an American."
"Trump America is real and I witnessed it first hand last night!" she wrote. "What a traumatizing night." 
According to the Daily News, the police say that from Nov. 8 through Nov. 27, New York City has had 34 reported incidents of "bias crimes," up from 13 in the same period last year. Of those incidents, 18 have been anti-Semitic crimes, while five have been anti-gay and two have targeted Muslims. 
According to the latest estimates from the Southern Poverty Law Center, 867 incidents motivated by hatred or bias occurred in the 10 days following Trump's election. 
Seweid did not immediately respond to Mic's request for comment.