A new school for Lakota kids at Standing Rock has no plans to evacuate by Monday deadline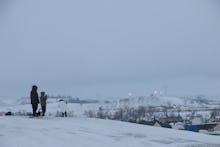 CANNON BALL, ND — At Standing Rock, as tribal leaders peacefully defend their sacred space against police officers attacking them with rubber bullets, concussion grenades and tear gas, Lakota children are living out their preteen years as far from quotidian American life as the decade allows.
Past the reservation's mess halls, past its warming stations and the giant geodesic dome where general meetings are held, there sits a cozy, one-room schoolhouse called Defenders of the Water School. There, Lakota kids as young as 6 have to balance schoolwork with living at the epicenter of a historic battle for their own sovereignty.
"The goal is to give all of the kids a traditional Lakota education, while also making sure that not only are they doing well in math, reading and science, but they're excelling in it to the point that they can critically address the systems they're in," Blaze Starkey, the Lakota man who runs the school, said.
Starkey, who helped start Defenders of the Water School in August, lived at Standing Rock even before the camp was built. He was soon joined by a creative writing grad school student named Teresa Dzieglewicz who was just passing through for a few days. Once Dzieglewicz met the kids and saw the opportunity to teach, she abandoned a prestigious writing residency and took up work at the school.
"I couldn't go back to grad school right now," Dzieglewicz said. "I'll go later. It's not going anywhere."
In early September, they were joined by Jose, a former Bernie Sanders organizer from Queens, New York, who also only intended on visiting for a few days and ended up entangled in the Standing Rock community. The three of them have been taking care of the school ever since, aiding in the education of between eight and as many as 45 kids.
The Defenders of the Water School is set up as a home school resource center servicing kids from ages 6 to 14. North Dakota State Superintendent of Schools Kirsten Baesler has tried to call the school's legitimacy into question by portraying it as something more than a home school resource center, but Starkey and the teachers work with parents to make sure the children's paperwork is in order with the state.
No state official has ever visited the school.
The typical school day starts at 10 a.m. with prayer and lessons in Lakota values, like respect, compassion and humility. The day continues with traditional lessons and is meant to end at 4 p.m., though students often elect to stay later.
Right now, the students are working on independent projects, like proposals for a documentary they could shoot about the camp, their families or their culture. Given the maelstrom of misinformation coming from outside the camp, the Lakota kids at Standing Rock are practically living in the middle of an ongoing media literacy course.
"They're learning how to critically read news articles about what's happening in camp," Jose said. "So then they're able to say 'No, that's not true.' They're creating their own media."
This is a vital part of their education as Lakota children at the Standing Rock camps: to not only learn, but to learn so thoroughly that the kids are equipped to question the systems they're mastering.
"In order to thrive, you have to be able to both beat everyone at their own game and be able to critically address it, and not be pulled under the current and be hurt by that system," Starkey said.
That system, one of European education and colonization, inflicts its share of hurt on Native Americans. It always has.
At the time of the original colonization of indigenous lands, education was an essential part of destroying indigenous culture and indoctrinating youth in order to rob them of their heritage. In the late 1800s, the government pulled Native children into boarding schools where they were stripped of their cultural identity and forced to cut their hair, wear uniforms and forget their heritage.
Today, Native American schools are dramatically underserved and underfunded. Indigenous youth are saddled with the burden of this violent history. Native American children only make up just over 1% of all U.S. high school students, have the lowest graduation rates of any student subgroup in the country. They have reduced access to high-school level courses and have high rates of suicide as students.
President Barack Obama visited Standing Rock in 2014. A few months after his visit, his administration issued a report affirming that the causes of the inequities indigenous people face were a lack of tribal control, systemic poverty and the inability for public schools to include indigenous culture and values in the curriculum.
That visit, which took place halfway through his second term as president, would mark Obama's first official visit to Indian country.
"It's not easy to be a native student in the school system," Starkey said. "It's still a system that's not focused on connecting native people to their traditions. Right now, if you go to any sort of standard school system, or even our reservations schools, everything they're trying to do is based off a European ideal of education."
Standing Rock is frozen over, now that the harsh North Dakota winter brought fresh snow to the reservation last week. The hills are crusted with ice, and Dzieglewicz took the kids out to the top of Facebook Hill — the one spot on camp where there's good cell phone reception — to go sledding.
But even with the fun, the prayer and the comfort afforded by the school, the kids are well aware that they're in the middle of a historic battle for land rights and indigenous sovereignty.
"We can't shield them from what's going on," Jose said. "We just try to make sure we stay calm. Because we're staying here, and not basing anything on fear. We just have to make sure our kids are well-protected."
On Monday, North Dakota Governor Jack Dalrymple ordered an evacuation of the camps at Standing Rock, and the Army Corps of Engineers says that they want everyone off the site by Dec. 5. More media outlets set up trailers and satellite trucks at the top of Facebook Hill each day, expecting a violent encounter to document. Many of the campers and residents of Oceti Sakowin Camp don't believe that kind of stand-off is coming.
Instead, more houses and structures are planned for the camp's expansion, and that includes the school. The school is putting up a supply tent and an additional structure alongside the yurt. There will be a longhouse, and Starkey beams when he says he wants to build "the most amazing indigenous community libraries in the world" at Standing Rock.
The teachers at Defenders of the Water School are unmoved by executive orders and press releases demanding they leave.
"We've been through these fights for so long, that whatever eviction order and whatever the governor is doing is the same thing they've been doing since the beginning," Starkey said in the yurt, with a kid trying to climb onto his back. "This is our treaty land, and it'd be silly for us to be afraid."