Peng Chang-kuei, chef credited with inventing General Tso's Chicken, dead at 98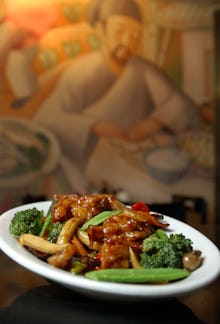 One of the most iconic dishes, a staple at almost any Chinese food restaurant in the United States, but not in China, lost its creator on Wednesday. 
On Wednesday, Peng Chang-kuei, the chef credited with the creation of General Tso's Chicken died in Taiwan at 98, the Associated Press reports. 
The chef was still cooking at his family's restaurant as of a few months ago. 
Peng created the dish in the 1950s in Taiwan and first brought the dish to New York about 40 years ago. Reporter Jennifer 8. Lee said during a TED Talk about her book The Fortune Cookie Chronicles that the inventor no longer recognized the dish and was "horrified" by what it had become. 
While working and cooking in New York, he served the dish, named after a 19th-century Chinese military leader from his home province of Hunan, to Henry Kissinger, who loved it. 
"General Tso's Chicken is so famous because of Henry Kissinger, because he was among the first to eat it, and he liked it, so others followed," Peng said, according to the AP. 
The first incarnation of the dish was not fried, as it often is today, and took its flavor from garlic, soy sauce and chilis, instead of the goopy, sugary sauce it's known for today. 
A 2014 documentary called The Search for General Tso also chronicled the dish's history. 
His funeral will be held on Dec. 15 in Taipei.