Cyber-bullying to blame in suicide of Texas teenager, family members say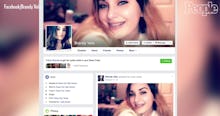 The family of a Texas City, Texas, high school student who committed suicide amid a campaign of online harassment this week is pushing for stricter cyberbullying laws, the Associated Press reported.
Brandy Vela shot herself in front of her father Raul Vela after receiving months of abusive messages through an anonymous smartphone app, the elder Vela told the AP, as well as discovering a fake Facebook profile created in her name for the purpose of humiliating her.
Vela changed her cell phone number several times and reported the abuse to police, according to People, but was unable to end the abuse. Texas City Independent School District officials could not determine who was behind the anonymous messages.
"People would make up fake Facebook accounts and they would message her and she wouldn't respond and they would still come at her," her sister, Jackie Vela, told CNN. "They would say really, really mean things like, 'Why are you still here?' They would call her fat and ugly. She was beautiful, absolutely beautiful; the only thing people could find to pick on her was her weight."
According to CNN, authorities have received several tips and are contacting people the family believes are suspects.
"When I was 23, some girls took over my Myspace and it devastated me," friend Marnie Weinstein told People. "It ran me out of a small town of Longview, Texas. For her to be eighteen, so fragile-minded and not ready to handle it, I can't imagine. I wish I could have told her it'd all be okay in the end."
Local CBS affiliate KHOU reported under existing state law, it is already Class B misdemeanor to "send repeated electronic communications to harass, annoy, torment or embarrass someone." San Antonio state Sen. José Menéndez, however, has proposed a law which would require schools to take tougher positions on cyberbullying and expand subpoena powers for officers involved in related investigations.