At least 9 dead, dozens missing in Oakland Ghost Ship fire in California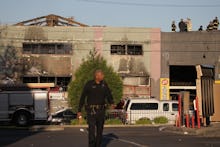 At least nine people are dead and dozens are missing after a fire raged through an Oakland, California, venue at 11:30 p.m. local time Friday night, with authorities prepared for the death toll to reach up to 40 people.
According to the Los Angeles Times, the building was the Oakland Ghost Ship, a converted warehouse and artists' collective that was hosting a concert on Friday night. A Facebook page for the event referred to it as the Golden Donna 100% Silk 2016 West Coast Tour.
Authorities asked attendees to provide information that could aid them in identifying the victims. At least 25 people remain unaccounted for, the San Francisco Chronicle reported.
"It was too hot, too much smoke," said artist Bob Mule, who tried but was unable to evacuate a friend with a broken ankle. Mule told the Los Angeles Times, "I had to get out of there. I literally felt my skin peeling and my lungs being suffocated by smoke. I couldn't get the fire extinguisher to work."
"I knew people were dead," Reed Supply Co. owner Al Garcia told the Chronicle, adding that he worried the building was a potential fire hazard. "There was no way anyone could get out."
The fire took 72 firefighters to put out, according to the Washington Post, and was too hot for emergency personnel to enter.
Authorities believe most of the dead were unable to escape down a makeshift stairwell built out of wooden pallets and found no evidence the venue was equipped with a sprinkler system, according to the Chronicle.
"We still have to do a more thorough search of the building and we don't know the potential number of other victims," fire Chief Teresa Deloach-Reed told the East Bay Times. "... This is a true loss for the city, for the firefighters who responded and the people who lost family and friends. It's just tragic, a real tragedy."