'SNL' launches search for "elusive legend" Hillary Clinton in Chappaqua woods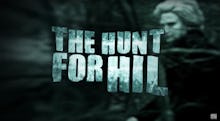 Where in the world is Hillary Clinton? On Saturday Night Live, two trackers of storied woodland beasts resolved to find out.
In "The Hunt for Hil," Beck Bennett and Kyle Mooney search "the woods of Chappaqua, where Hillary Clinton has recently been sighted by a bunch of white people with Facebook accounts." 
"Where was she now?" Bennett-as-Rafe-DeGraw wonders. "We set out to find her, trap her and thank her."
After a particularly rough election cycle, the Democratic nominee retreated to her home in Westchester County, New York, to find some peace and quiet. But thanks to social media, she's hasn't been able to stay entirely out of the public eye — on Nov. 10, for example, one Margot Gerster ran into Clinton while both were out walking in the woods. She has since been sighted and hugged by grateful strangers while buying books and shopping for Thanksgiving dinner.
Yet where and when Clinton will materialize is unpredictable, so Bennett and Mooney attempt to lure her out of hiding by mimicking her laugh and planting an article about the Wisconsin recount. Where could the "elusive legend" be? Turns out, only the trees of Chappaqua have the answers. 
Watch the full sketch below: