Mall of America hires its first black Santa, racists of the internet lose it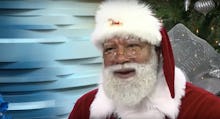 Internet commenters ruin everything. Some recently surfaced evidence in support of this theory: the Mall of America's decision to hire its first-ever black Santa to spread some much-needed holiday cheer after what's generally agreed to have been a terrible, horrible, no-good, very bad year; the Minneapolis Star Tribune's decision to cover it; and readers' decision to unleash a torrent of racism in the Star Tribune article's comments section. 
Larry Jefferson — an army veteran from Texas and the Mall of America's 24th St. Nick — would seem to be an eminently talented, qualified and dedicated Santa. He attended a "premiere Santa school," according to the Star Tribune, and is a member of the Lone Star Santas, an all-volunteer organization that brings toys to children whose families have been affected by natural disasters. Also, his beard is real, which is important — but most important of all are his deeply held, Santa-ly convictions:
"It's a positive experience," Jefferson explained in a video accompanying the Star Tribune's article. "I want to help inspire them to think good things about Santa, about the world in general: hope, love, peace, caring. It's about meeting the people and listening to them and making them smile and laugh."
In hiring Jefferson, Landon Luther — co-owner of the mall's Santa Experience — had hoped to give families a more representative Kris Kringle. "We want Santa to be for everyone, period," he told the Star Tribune. Jefferson signed on for a four-day stretch and was completely booked Saturday and Sunday. 
While many patrons were pleased with Jefferson's Santa Claus, racists of the internet were not. The Star Tribune eventually closed its comments section for the story, but other media outlets have not. As RawStory reported, commenters raged about reverse cultural appropriation at the bottom of CBS' article.
"I clicked on this story fully expecting that they picked a Somali to play Santa," one person wrote. "That would be fitting for Minnesota. Have a radical Muslim who hates America and the western world play Santa. Give him a gun and some knives under his red suit and when the little Christian children come sit in his lap, he can cut their throats."
"Tell me why a white Santa can't be for everyone?" another asked. 
"Because St. Nicholas is white," came the answer from a different reader. "And the big deal is the double standard. White people get stabbed by blacks for cultural appropriation, last I checked they claimed to have a monopoly on hair braiding so keep their hands off Santa."
Over at Yahoo, the response was much the same:
And of course, there's the inevitable Twitter outrage:
As many others have been quick to point out, Santa isn't real. Santa can be whatever one wants Santa to be.
And for all those commenters worried about the children, based on the photos, it seems as though the kids are all right. Given that a visit to mall Santa is an abjectly terrifying experience for many kiddos — a quick search of Google images suggests that not everyone relishes the experience of being plopped on a stranger's lap for a photo op — the ones photographed below seem unfazed and, dare we say, even excited?