25 gift ideas for 'The Walking Dead' fans, from collectibles to kitchenware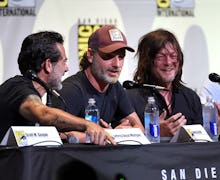 Since 2010, millions of Americans have tuned in each week to watch the hit AMC drama The Walking Dead. The post-apocalyptic series holds the distinction of being the highest-rated series in cable television history — so there's a good chance someone on your holiday shopping list is a fan.
If you're looking for Walking Dead-themed gifts this holiday season, here are 25 ideas that are sure to please any fan on your list.  
Clothing and accessories
Michonne katana sling bag, $59.95
Crossbow bracelet, $6.99
Ladies chibi body 5-pack crew socks, $17.95
Superluxe™ mens Hershel's Farm vintage-style zombie apocalypse barn T-shirt, $19.99 to $21.99
"Don't Open, Dead Inside" womens fleece bathrobe & swimsuit cover up, $32.95
Kitchen
Rick shirt apron, $29.95
The Snacking Dead: A Parody in a Cookbook, $15.27
Terminus-inspired engraved cutting board, $28.50
Home and decor
Walking Dead shower curtain - Terminus map edition by ThinkGeek, $12.98
Walking Dead laser-cut clock, $26.08
Daryl w/ crossbow soft fleece throw blanket, $39.95
Woodbury retro travel plastic sign, $13.00
Bailand Walking Dead season 5 throw pillow covers (set of 5), $39.99
Games and collectibles
Monopoly: The Walking Dead (Survival Edition), $33.37
McFarlane Toys: Dale's RV set, $33.69
Biker Daryl vinyl figure, $14.95
The Walking Dead trivia game, $16.75
McFarlane toys building sets - The Walking Dead figure pack 1, $8.45
Books and DVDs
The Walking Dead: Compendium One, $34.45
Season 6 limited-edition blu-ray/ultraviolet set, $149.99
Michonne hardcover ruled journal, $19.95
The Walking Dead: The Pop-Up Book, $64.95
Season 1 DVD set, $26.98
Walking Dead first-aid kits
AMC's The Walking Dead survival kit - one person, $89.95
The Walking Dead zombie preparedness apocalypse kit, $39.95