At least 30 confirmed dead in Oakland Ghost Ship fire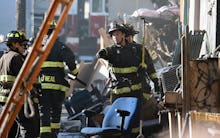 Authorities have confirmed at least 30 deaths from the blaze that raged through an artists' collective in Oakland, Califonia, over the weekend, with more deaths likely to be confirmed as officials sift through the wreckage, CNN reported on Sunday.
According to Sgt. Ray Kelly of the Alameda County Sheriff's Office, "The number of lives lost will increase," he added.
It could take days or even weeks to identify all of the victims.
The fire broke out at Oakland Ghost Ship, a converted, multi-story warehouse featuring ornate performance spaces, during the Golden Donna 100% Silk 2016 West Coast Tour. Artist Josh Howes, who believes his fiancee Donna Kellogg perished in the venue, told SFGate the building was filled with reclaimed furniture and decor that made it a serious fire hazard.
"That place was 100% trash — beautiful, amazing trash," Howes said. "That place was the most perfect, beautiful bonfire."
Firefighters told SFGate the building was only permitted for warehousing, not living or entertainment, and some victims appeared to have died because they were unable to find their way down a staircase made of wooden pallets.
The staircase "was literally made out of kindling," Howe said.
Jon Hrabko, a promoter for the event, said some of the deceased were workers on the show.
"I watched that building burn for five hours," Hrabko told SFGate. "Those people didn't walk out."
"You could feel the heat of the flames," John Evanofski, who witnessed the blaze, told CNN. "Most of us were crying or unable to react. It was so hot and so terrible knowing that so many of us were still inside."
The blaze was the worst fire in Oakland since 1991, when a "horrific firestorm" swept through Oakland Hills, killing 25 people and destroying nearly 3,500 homes.