12 photos showing indigenous activists' celebration of historic Standing Rock victory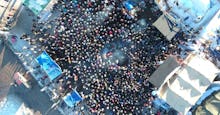 CANNONBALL, ND — On Sunday evening, the U.S. Army Corps of Engineers effectively halted construction on the Dakota Access pipeline, announcing that it would look into alternative routes instead of burrowing under Lake Oahe. The decision comes as a stunning victory for the many protesters gathered at the Standing Rock Indian Reservation in North Dakota. 
Demonstrators have sustained their protest of the 1,172-mile pipeline — which, according to the Army's statement, would have carried around 470,000 barrels of oil daily — for months. The pipeline's route threatened to contaminate the Missouri River's water supply and to disturb sacred ancestral lands, the Standing Rock Sioux have argued. Protests have turned increasingly violent, with around 2,000 veterans coming to the aid of water protectors over the weekend as the Army Corps of Engineers threatened to evict them. 
"We wholeheartedly support the decision of the administration and commend with the utmost gratitude the courage it took on the part of President Obama, the Army Corps, the Department of Justice and the Department of the Interior to take steps to correct the course of history and do the right thing," Standing Rock Sioux Tribal Chairman Dave Archambault II wrote in a statement. 
It's a huge and unexpected victory, one that's come as a welcome surprise to the thousands of people who've been protesting the pipeline's constructions as temperatures have begun to drop below 0. Here's a look at how activists on the ground are celebrating the win.
Dec. 4, 2016 at 7:14 p.m.: This article has been updated.