The 8 Best TV and Movie Soundtracks of 2016: From 'La La Land' to 'Stranger Things'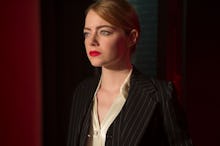 There is nothing more enjoyable than finishing a great TV show or movie and discovering an accompanying soundtrack is ready for your listening pleasure. In a year filled with standout TV shows like Insecure and Stranger Things and movies like La La Land and Moana, their soundtracks are just as worthy of all the praise and a spot on your go-to playlist. 
To compliment the outstanding movies and TV shows that were released this year, here are eight of the best TV and movie soundtracks of 2016. 
La La Land (Original Motion Picture Soundtrack)
La La Land's original soundtrack is filled with great numbers from the musical. Compiled of original songs and music from the movie by composer Justin Hurwtiz, it's a toe-tapping good time. There are several duets between the film's stars Emma Stone and Ryan Gosling that shine, but it's Stone's big solo number, "Audition (The Fools Who Dream)," that has us pressing repeat.
The Edge of Seventeen (Original Motion Picture Soundtrack)
The coming-of-age film is an ode to being a teenager and how complicated and selfish we can be. The Hailee Steinfeld movie is perfectly complimented with a soundtrack that acts more like a mix-tape you'd make for a long car ride with your friends. With songs from A$AP Ferg, Santigold, The Struts and more, relive how awful you were as a teenager all over again. 
Bridget Jones's Baby (Original Motion Picture Soundtrack)
The soundtrack to Bridget Jones's Baby is a collection of today's biggest hits and classics from beginning to end, including songs from Years & Years, Lily Allen, Sister Sledge and Dionne Warwick. One of the standouts is Ellie Goulding's "Still Falling For You," that perfectly sums up all of Bridget Jones's relationships.
Moana (Original Motion Picture Soundtrack)
With every great Disney animated movie comes a great soundtrack. The Moana soundtrack is a mix of covers and original music that makes for another outstanding addition to the Disney legacy. The soundtrack includes songs from Lin-Manuel Miranda, Alessia Cara, Dwayne Johnson and Jordan Fisher.
Popstar: Never Stop Never Stopping (Original Soundtrack)
To go alongside Andy Samberg's spoof of pop-star documentaries, the soundtrack for Popstar: Never Stop Never Stopping is just as hilarious and addictive as we've come to expect from the musical antics of Samberg's band, The Lonely Island. Filled with features from everyone from Pink to Seal, the soundtrack makes fun of the current state of pop music. While Emma Stone is remarkable on the La La Land soundtrack, her feature on "Turn Up The Beef" is just as good. 
Stranger Things, Vol. 1 (A Netflix Original Series Soundtrack)
Filled with original music made for the show, Stranger Things, Vol. 1 is the perfectly creepy compliment to the Netflix smash. As one of 2016's biggest hits, Netflix's Stranger Things has a score that will keep you entertained well after your third rewatch of the series. 
Insecure (Music from the HBO Original Series) 
Insecure, one of the breakout TV shows of the year, has an incredible soundtrack. Solange is the show's music consultant, so of course the collection of artists used throughout the series and compiled together on the soundtrack is impeccable. The soundtrack features music from artists like D'Angelo and The Internet, and it's the perfect playlist for your Saturday night.  
Westworld: Season 1 (Music from the HBO Series)
While we're still processing the finale of HBO's new hit series Westworld, the soundtrack is here to help remind you that all is not what it seems. Composer Ramin Djawadi is the mastermind behind the show's theme and outstanding soundtrack that features notable classics from artists like Radiohead and Amy Winehouse.