'Saturday Night Live' and a Trump presidency: Where does the show go from here?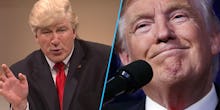 Alec Baldwin and Saturday Night Live are officially under Donald Trump's skin. The president-elect has repeatedly tweeted his disapproval of Baldwin's impersonation of him, yet the actor and sketch comedy show just keep on jabbing back. Saturday, they even came for his tweets.
Trump's angry response — "unwatchable!" he called it — prompted Baldwin to offer the real-estate-tycoon-turned-future-president a deal. If Trump released his elusive tax returns, he'd stop doing the impression.
Of course, no one expects Trump to actually concede and release the returns; Baldwin's tweet even included a dismissive "Ha" at the end of it. But the deal does bring up a somewhat puzzling question: What is SNL going to do for the next four years?
The Baldwin problem
Though Baldwin makes for a stellar Trump, the actor isn't a Saturday Night Live cast member — nor does it seem likely he would ever join full-time. When he started doing the impression, the expectation was that he'd be doing it through the election, and then when Hillary Clinton was elected, he'd get to retire the character.
But now, SNL is facing at least four years of a Trump presidency, and Baldwin can't possibly do the show every week. He's a film and TV actor who will inevitably have filming obligations during weeks when the show needs him. Put simply: Baldwin isn't a viable option.
Moreover, SNL fired their last Trump, Taran Killam, ahead of this most recent season. So they're really looking at a blank slate when Baldwin hangs up his toupee.
Who could play Trump?
Among Trump's current cast, there are limited options. Mikey Day, Alex Moffatt, Pete Davidson and Kyle Mooney aren't quite physical fits, while Bobby Moynihan has a different energy. Beck Bennett would seemingly be the leading contender, but it's hard to imagine his impression besting Baldwin's.
To be frank, SNL's really got a dilemma here. They might need to find a new cast member, which isn't going to be the fastest search. They could have Baldwin stay on for the rest of the season while they look, but that's a long stretch.
One thing's for sure: At some point, SNL is going to need to find a fix. As long as he has a Twitter account, Trump isn't going to stop giving them material.